From Office Posters to Furniture: Unleash Creativity with Society6
This post may contain affiliate links, meaning I make a commission if you purchase through my links, at no extra cost to you. I really appreciate your support. I do not post affiliates links to things I wouldn't recommend or use myself. Disclosure..
Seeking to infuse your living or workspace with a captivating burst style? Look no further than Society6—a place where independent artists and art enthusiasts from all corners of the globe connect via art. This online marketplace offers a collection of artwork ranging from office posters to home furniture pieces that can transform your home and workspace into a space of inspiration.
**This post is sponsored by Society6. All opinions are my own. I was gifted a poster as part of this post. All opinions are my own. Thank you for supporting brands that help keep In Our Spaces running.
Table of Contents
Transform Your Walls with Captivating Artwork
Wall art is the perfect way to add a little something-something to any room. Society6 has a community of talented artists, and their artwork is available in various formats ranging from canvas prints, framed prints, tapestries, and even wall clocks.
Whether you're seeking a captivating abstract piece, a serene landscape, or a thought-provoking illustration, Society6 has it all.
Find unique office posters and innovative prints for your workspace or home. Just imagine gazing at a majestic piece of art that makes you feel all the feels to inspire you even amid a hectic schedule. If the vibe of your space is off, this is your sign to change it.
Express Your Unique Style with Home Decor
Your home is a reflection of you and Society6 offers several home decor options to decorate your home in your unique style. Whether you prefer minimalism, boho, mid-century modern, or bold and eclectic designs, you'll find the perfect pieces to enhance your living space.
Custom throw blanket & Minimal Japandi-style shower curtain
Elevate Your Office Aesthetics with Creative Accessories
For those seeking to elevate their office environment, Society6 offers a range of unique and stylish accessories. Whether you work from home or in a corporate setting, these accessories can help create a workspace that fuels your productivity and inspires your creativity.
From motivational quotes, positive affirmations, and uplifting designs crafted into desk accessories, prints, or furniture, I'm sure you'll find something that will impact your mood and worth ethic. Let these pieces of functional art energize your workday and serve as a constant source of inspiration.
If you want to make a statement in your space, select a poster, have it framed, and then hang it above, say, a console table to make a bold statement.
My current favorite independent artists' work
Shop favorite selections from independent artists
Customizable Furniture that Complements Your Style
Society6 doesn't stop at wall art and decor; they also offer customizable furniture options. From cozy armchairs to sleek coffee tables, you can find unique furniture pieces that perfectly match your style and preferences.
These furniture pieces are not only visually striking but also crafted with comfort and functionality in mind. Just imagine lounging in a statement chair that perfectly complements your interior decor, or gathering around a conversation-starting coffee table that becomes the centerpiece of your living room.
Society6's furniture collection allows you to transform your space into a true reflection of your personal style. Check out the custom coffee below. You have the ability to personally select the artwork that adorns your furniture.
Explore Society6 and Let Your Creativity Run Wild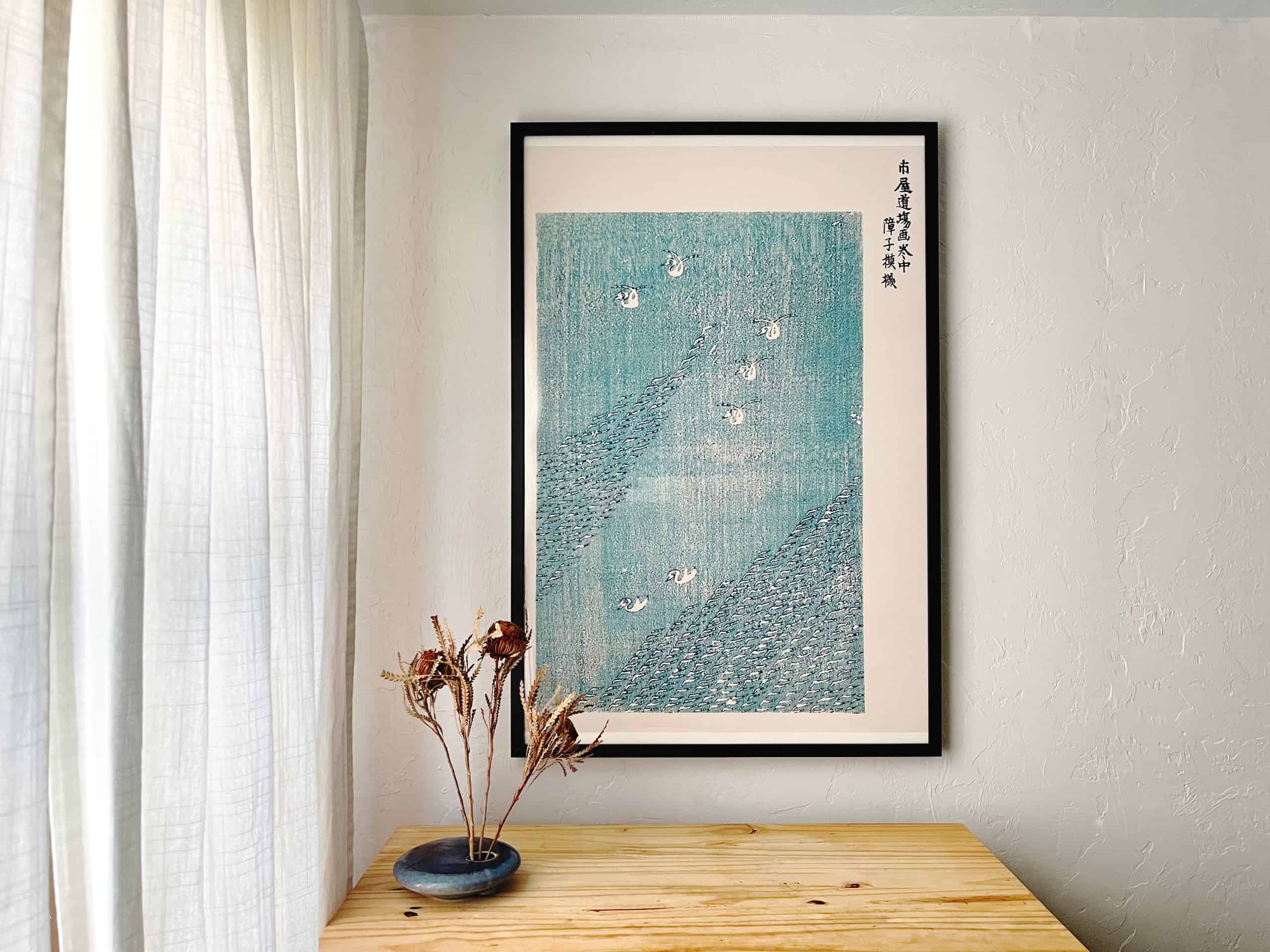 Society 6 generously gifted me a poster. My selection of choice? Blue Lake by the esteemed artist, Taguchi Tomoki as seen in the photo above. My love for simple art drew me to this piece. And while there were many pieces of art to choose from, this piece particularly caught my eye as it compliments my Ikebana flower vase. A match meant to be. I opted for a simple black frame to allow the artwork to stand out.
My final appraisal and Society6 poster review? Totally worth it. The poster and print are of rich quality and it was shipped in a timely and protected manner. Moreover, Society6 provides ample border space, giving you the flexibility to customize the fit. In my case, I needed to trim off a few inches around the poster to allow it to fit into the frame. Very easy to do and I couldn't be happier with the result.
Innovative Prints
So whether you're searching for captivating wall art, unique home decor, stylish office accessories, or customizable furniture, Society6 offers a wide array of options to suit your taste.
Have you heard or ordered from Society6 before? If so let me know and what you like best from what they offer. Or are you an artist there? Share your shop so others can check it out.
Like this post? Check out more posts on inourspaces.com to explore more articles on home aesthetics and wellness.
Frequently Asked Questions
What is Society6?
It is an online marketplace where independent artists and art admirers connect. It provides a wide array of options for wall art, home decor, office accessories, and customizable furniture.
What types of artwork can I find on Society6?
A wide range that includes abstract pieces, landscapes, illustrations, minimalistic artwork…the list goes on. If you have a type of art you like, you can be sure to find it on Society6.
What is the quality of Society6's products?
Society6 is known for its high-quality products. The artwork is printed using state-of-the-art technology. The home decor and furniture are crafted with attention to detail and durability to make sure the piece you select will last you a long time.
Does Society6 offer international shipping?
Yes, Society6 ships internationally to many countries for select products. During the checkout process, enter your shipping address to check if your location is eligible for delivery. Please note that international shipping fees and customs duties may apply depending on your country's regulations.
How can I join Society6 as an artist?
To join Society6 as an artist, you can visit their website and click on the "Sell Your Art" at the bottom of the page or "Join" button at the top. You will be guided through the sign-up process.
Pin it for later – From Office Posters to Furniture!