July Air Conditioner: The Most Aesthetic, Modern, & Smart AC Unit Right Now
This post may contain affiliate links, meaning I make a commission if you purchase through my links, at no extra cost to you. I really appreciate your support. I do not post affiliates links to things I wouldn't recommend or use myself. Disclosure..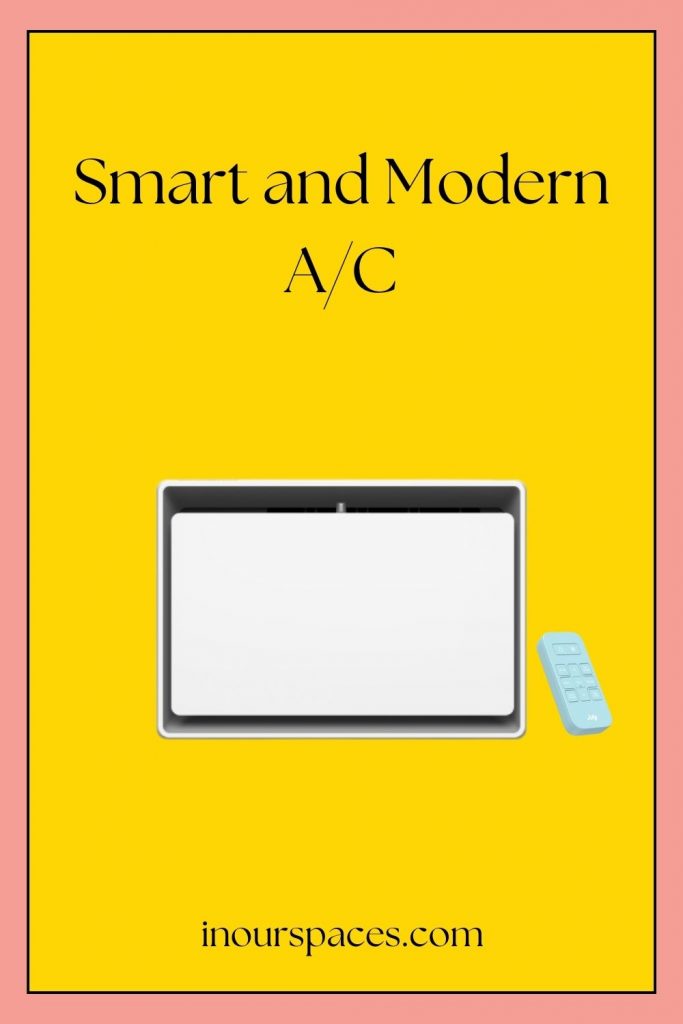 July Air Conditioner
Today I'll be talking about the July air conditioner. The modern window A/C unit is grabbing everyone's attention. If you live in a space like in our situation, a very old home with no central air conditioning, then you're probably familiar with having to deal with a window A/C unit.
And let me tell you, they are not pretty but a necessity if you want to stay cool and comfy during those hot days. Our currently places has three AC units to be exact. Two window units and one portable one that we dragged with us when we moved states.
Design
So first impressions. The July AC is the most aesthetically good-looking AC I have ever seen. Its unique design is visually appealing to the eyes and makes you want to just simply replace all your other ACs.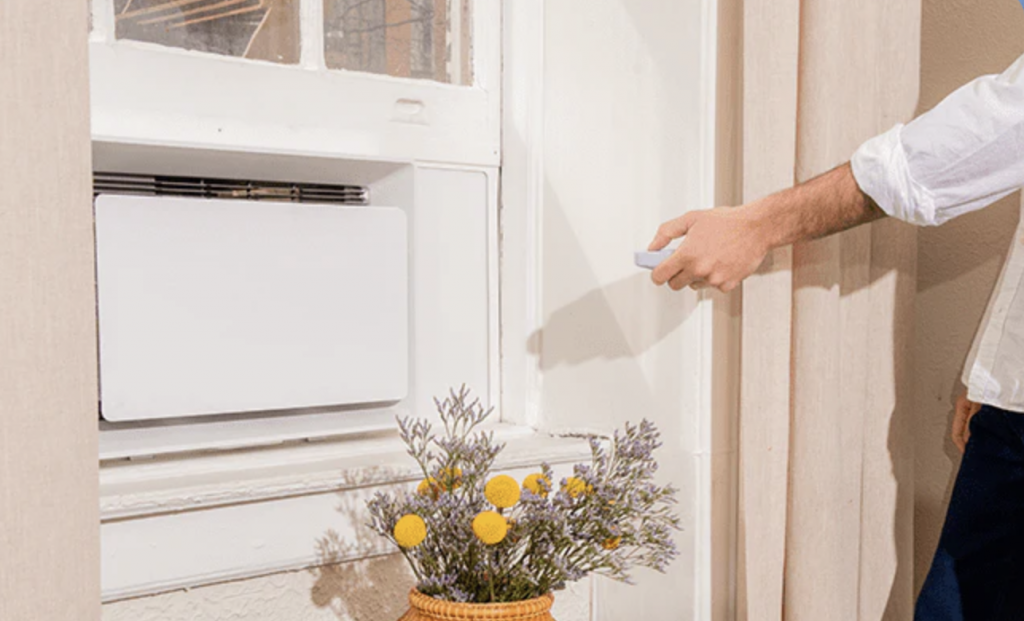 Compared to other A/Cs in the market, July wins in the department of aesthetic hand's down.
If you're like me and like things that look good but work well, then the July air conditioner is definitely up your alley. It's minimal, sleek, and modern looking. Say goodbye to an eyesore of a typical A/C unit and say hello to July.
Installation
If you've ever installed an A/C unit by yourself, then you're familiar with how a bit of a challenge it can at times be depending on the unit's size. Sometimes, it's a two-person job. You just don't want to risk dropping the unit on the other side.
July though makes installation a breeze. For this unit, you install the frame first, THEN you pop in the A/C. Easiest installation ever and a great unit for anyone who doesn't want to wait around for help. But, if you rather not lift a finger, July also offers a white-glove installation service. You simply select the option during checkout and viola!
Features of the July Air Conditioner
The July air conditioner comes in two sizes- small and medium. So depending on your needs, you have the option to pick from either or. The small is suitable for spaces of up to 250 square feet, while the medium is best for spaces up to 350 square feet.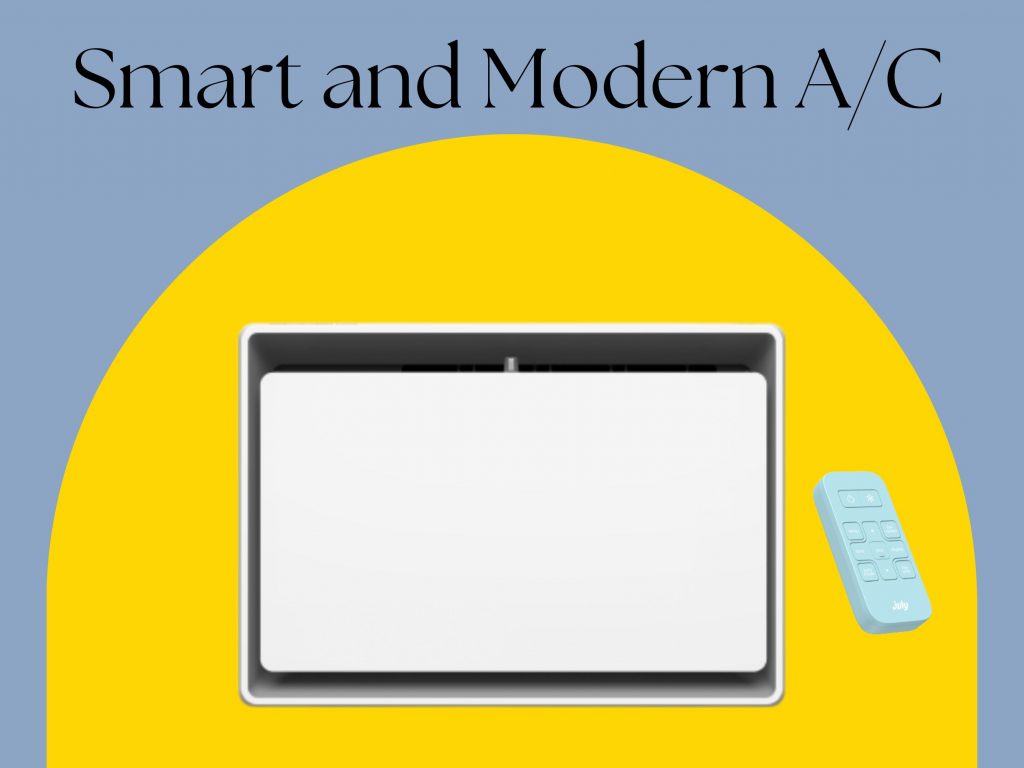 July AC Unit Accessories:
Aside from the filters. The company also offers different accessories to make your AC customizable. You can pick an upgraded filter, different front covers, and upgraded side panels to fit your needs…and match your interior decor.
Filters
Let's talk about the filters. All July air conditioner units come with standard washable filters like any other unit. July however, also offers an air purifying filter option that you can upgrade to.
These filters capture finer particles like pet dander, pollen, dust mites, mold, spore, as well as other pollutants you might find in the air. So if you suffer from allergies, respiratory problems, have pets, or live in an environment where there is high moister, then definitely upgrade to the air purifying filter.
Not only that, the company also offers carbon-activated purifying filters. These are great for removing smells and smoke from your home. These filters are recommended for anyone who lives near a busy street or areas prone to wildfires, or if you deal with a lot of kitchen odors.
Front Covers
In regards to the front cover, you can pick from matte colors such as white, cloud, sky blue, rose, and forest green. There are also premium materials such as fabric, wood, and limited edition ones that are very popular and tend to sell out quickly. So if you see a color or material that you like, grab it quickly.
Side panels
The side panels come in standard solid panels and plexiglass side panels if you want to let the sunshine in. In addition, there are also insulation panels that you can layer to create a tight weather seal.
Sustainability
Touching on the topic of sustainability. July states on its website that it uses 10% less energy and 2/3 less emission compared to an A/C of roughly the same size. Now that I like.
Use your voice and wifi
July is also a smart AC unit. It s wife enabled. So you can use Amazon Alexa, Google Home, or the July A/C app on your smartphone.
You can set a schedule and tell July when to turn on. This is the feature I love the best.
If you typically turn off your A/C unit when leaving to save energy, then no more coming home to a hot place and having to wait for it to cool down again. You can simply set us a schedule for July from the app to turn on right before you come home from work, school, or running errands. This is the smart air conditioner to go for.
Performance
Compared to a regular A/C, the July air conditioner blows air from the top of the unit. This helps circulate air instead of it just blowing right in your face. This alone is another feature to love. No more avoiding sitting across the AC because the air is too cold in that one spot.
Where to purchase July Air Conditioner?
Or, feel free to check out my Favorites page to check out In Our Spaces' top home picks.