Favorite Finds: 23 Best Back to School Supplies
This post may contain affiliate links, meaning I make a commission if you purchase through my links, at no extra cost to you. I really appreciate your support. I do not post affiliates links to things I wouldn't recommend or use myself. Disclosure..
So I might be a little late with this post. But better late than never if you haven't gone shopping for back to school supplies.
But check out some supplies to stay organized and make learning exciting. Here I've rounded up the 17 best back-to-school supplies that will have you looking forward to the new school year. From trendy backpacks to cool pencil cases and fun lunch items, this list has got you covered.
Simply click on the image to be taken to the product page.
Table of Contents
Backpacks
A backpack is more than just a bag.
The right backpack can set the tone for your entire school year. Stay organized and have room for your books, supplies, and even that laptop or tablet the school may send along.
The school supplies list may be long, but a good backpack will make it feel like a breeze.
The backpacks were chosen based on their simple design.
Pencil Cases
A pencil case is sometimes a necessity. It's where your pens, pencils, highlighters, and other supplies come together to lay the foundations for achievement. No more having to dig through the bottom of a backpack for a pencil.
Opt for a pencil case that's not only nice to look at but functional. It makes it super easy to find what you're looking for. I really like the following pencil cases because they give you plenty of space to carry a good amount of supplies one might need.
Lunch Items
Lunchtime is about refueling your body. Upgrade your lunch game with functional lunch items that keep your food fresh. From bento boxes that let you compartmentalize your meal to insulated bags that keep your snacks cool, there's a wide range of lunch items that make your midday break even better.
1. Lunch Containers
I opted to include that lunch containers that are free from toxic plastics, and use better alternatives such as glass, metal, or silicone.
These lunch containers are great not just for school but for work as well. The first ones are leakproof, making it an ideal choice for soups or lunches that might spill a bit. Moreover, the first three are microwave-safe for when you might need to heat up a meal.
2. Lunch Bags
Most of the above rectangular lunch containers will have no problem fitting into these lunch bags as they are slighter larger in size than most lunch bags. They provide ample space to allow you to pack plenty of food, yet make it easy to carry with the straps provided.
3. Drinks & Extras
Some lunch extras that I highly recommend.
Thermos water bottles are easy to clean with a straw brush and the handle makes it super easy to carry. The Takeya water bottle and the Thermos one are both made out of stainless steel and keep drinks cool.
Eating utensil case holder allows you to place your choice of eating utensils inside. No more having them randomly thrown in and getting the inside of the lunch bag dirty. Just save yourself the extra work.
Stasher bags are hands down the best alternative to plastic sandwich bags. They can be popped into the freezer, are microwave-safe, and even oven safe. You can use them to pack meals, snacks, school supplies, makeup, toothpaste/toothbrush, or even travel essentials like your sunglasses and passport…the list goes on.
Silicon squeeze bottles make it easy to pack up condiments separately. the wide mouth makes it easy to fill and clean.
When it comes to the back-to-school rush, a supply list might seem overwhelming, but it's also a chance to pick out what will work best for you. So grab those back to school supplies and don't settle for a basic supply list—curate your own list of supplies needed that will set you up for success.
Pin 23 Back to School Supplies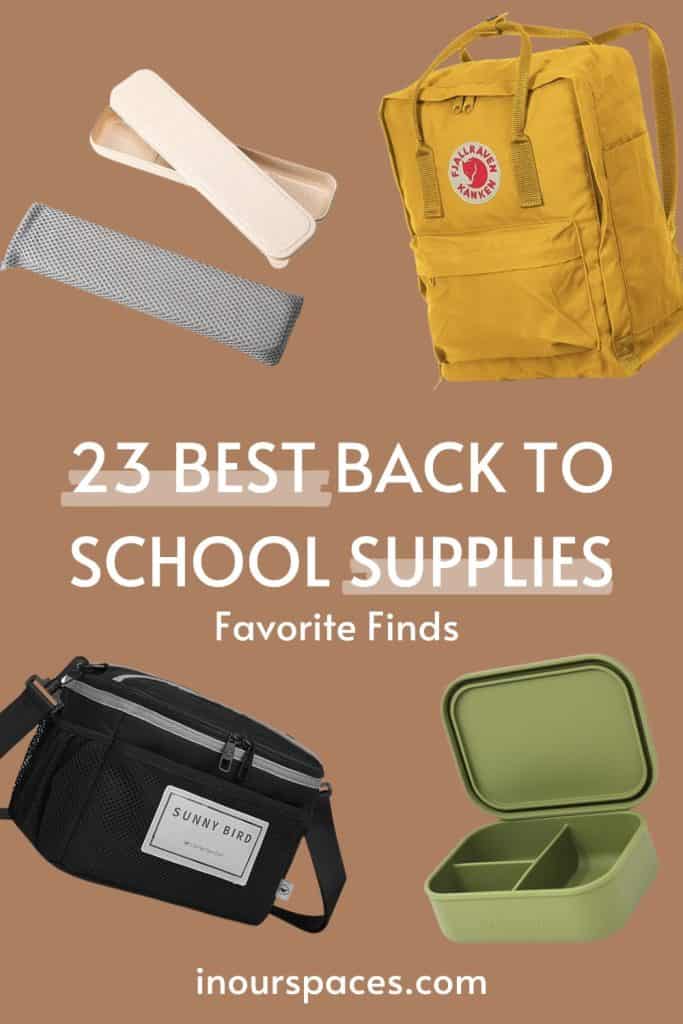 Do you have any favorite school supplies that are must haves?
Also, check out my Top 4 Best Productivity Apps for iPhone to help you or your student stay organized. And if you are doing some wardrobe shopping for children, check out 17 Awesome Children Clothing Brands.