43 Unique & Modern Tissue Box Covers
This post may contain affiliate links, meaning I make a commission if you purchase through my links, at no extra cost to you. I really appreciate your support. I do not post affiliates links to things I wouldn't recommend or use myself. Disclosure..
If you're anything like me, you probably have a preference for items that not only look stunning but also serve a practical purpose. I spent hours searching the World Wide Web, high and low, for the modern tissue box covers. From cute to the most sophisticated and elegant styles, you'll most likely see one that is to your liking.
Keep in mind that I haven't handled any of these, so some might fit over a standard tissue box and some won't. However, you simply need to tear open a box of facial tissue and load them up in there. So keep scrolling and click on the product name for the link.
Table of Contents
Modern Tissue Box Covers
And now some more: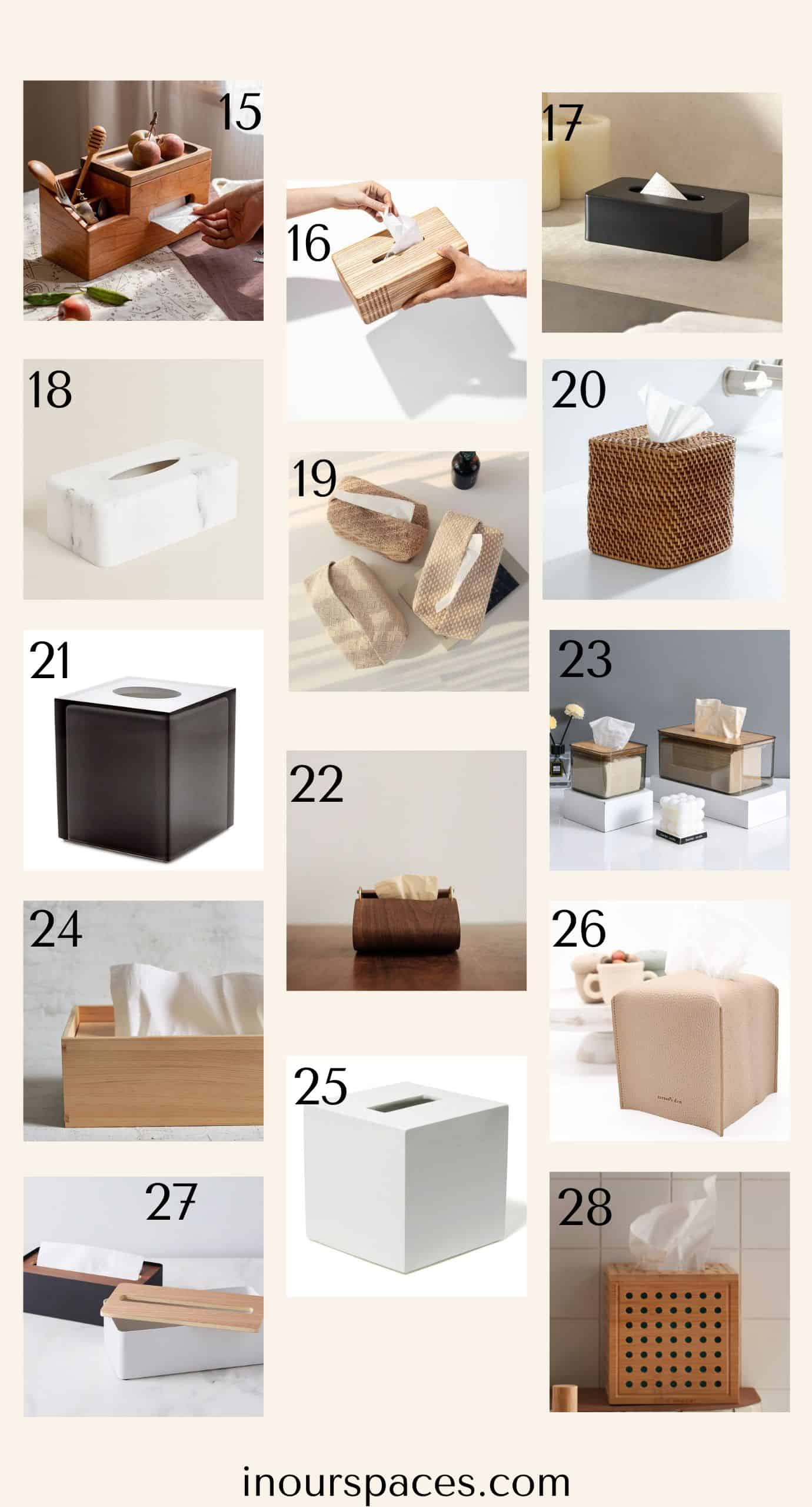 Up next – creative tissue boxes.
Phew, so there you have it, plenty of modern tissue box covers to pick from for your home, a gift, the office, etc. Which one is your favorite?
If you like this post, check out the design section of the website for more product roundups in the future, or subscribe to the newsletter to know when I drop more product roundups like this.
FAQ
How do I choose the right tissue cover for my space?
Consider your décor and personal taste. I would start with what colors compliment your current decor and then narrow it down by style.
If you're looking for a cover for the bathroom, I'd keep to acrylic or ceramic pieces as metal ones could be prone to rust in a humid environment such as a bathroom.
Are these tissue box covers durable?
Absolutely. However, if you have children or pets, take that into consideration before decided on a ceramic cover.
How do I clean and maintain a tissue cover?
Simply wipe with a damp cloth or use a gentle cleaning solution to maintain their pristine look.
Pin it for later!