The New Counter Top Spice Rack You Didn't Know You Needed
This post may contain affiliate links, meaning I make a commission if you purchase through my links, at no extra cost to you. I really appreciate your support. I do not post affiliates links to things I wouldn't recommend or use myself. Disclosure..
Are you tired of rummaging through cluttered kitchen drawers to find the perfect spice for your culinary masterpiece? Do you dream of an organized and accessible spice collection that adds convenience and charm to your kitchen? Look no further, because the Evermill Spice Rack is here to revolutionize the way you store and display your precious spices!
Introducing Evermill Spice Rack: The Ultimate Kitchen Organizer
Spices with Rack: A Culinary Love Story
Spices are the heartbeat of every delicious dish, and a spice rack is the perfect soulmate to keep them organized and accessible. The Evermill Spice Rack offers the solution to the eternal struggle of finding the right spice amidst the chaos. Say goodbye to the days of disorganized drawers and spice cabinets, and embrace the beauty and functionality of this exquisite storage solution.
Table of Contents
The Evermill Spice Rack: Your Kitchen's New Best Friend
This elegantly designed spice rack not only keeps your spices neatly arranged but also adds a touch of style to your kitchen decor. No more fumbling through different jars and containers, as you will have all your favorite spices right at your fingertips.
A Spice Rack for Every Need
This spice rack comes in two different forms to cater to different kitchen spaces and spice collections. Whether you prefer a compact countertop or wall-mounted option or an in-drawer spice organizer, Evermill has got you covered.
1. Counter Top Spice Rack
For those who love to have their spices within arm's reach while cooking, the Counter Top Evermill Spice Rack is a game-changer. Gracing your countertop in a tree or two-tier option, this exquisite piece ensures your treasured spices stay organized and readily accessible. It is the best countertop spice rack available.
2. Wall-Mounted Op
If you have limited countertop space, the Evermill Spice Rack also comes with wall mounting hardware to have it gracefully mounted where needed. Install it on your kitchen wall, and voilà! Your spices are elegantly displayed and easily accessible, freeing up valuable counter space for other kitchen activities.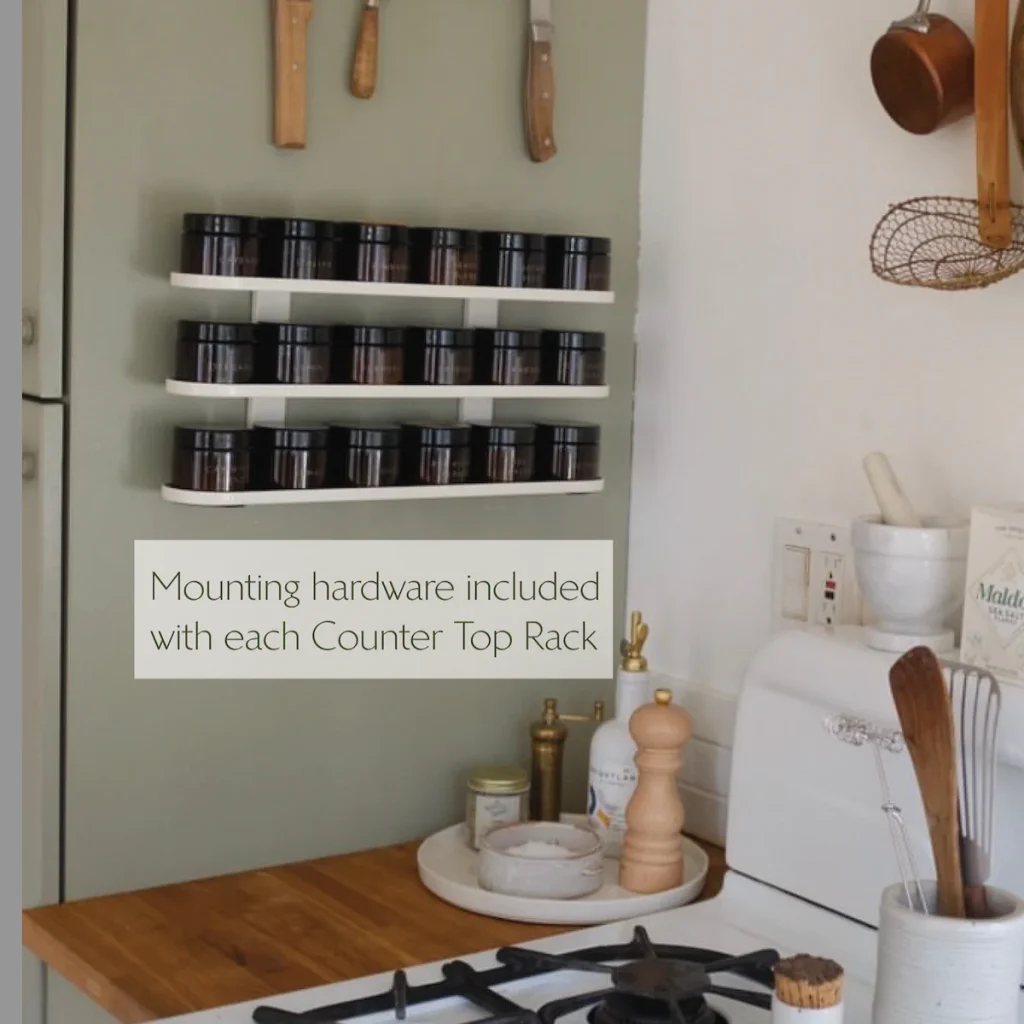 Its sleek design ensures that it doesn't take up much space, yet it accommodates a wide array of spice jars securely.
3. In-Drawer Spice Organizer
Prefer to keep your spices out of sight but still well-organized? The Evermill In-Drawer spice organizer is the perfect solution. Say goodbye to cluttered drawers and hello to a well-organized spice collection neatly tucked away in your kitchen drawers.
4 . Accessories
All racks include two shaker lids for more precise control of your spices. Moreover, stackable lid collars are available as well which allows you to stack spice jars on top of each other to store in sight or out of sight for those extra spices you might have on hand.
Why Evermill Stands Out
"We're big believers that food connects us all. Over the years, some of our best memories together were fostered over a home-cooked meal."

– Co-founders Luke and Mark
The Evermill team understands the struggles of every home cook and chef, which is why they have crafted the perfect spice rack with attention to detail and functionality. Here's why the Evermill stands out from the rest:
1. Premium Quality Materials
Evermill's dedication to quality ensures that every piece is crafted from premium materials. From sturdy metal frames to upholding the highest standards for it's spices, these spice racks are built to last and withstand the demands of a busy kitchen.
2. Smart Design
Available in four sophisticated colors with the countertop version – gunmetal, silver, white, and black – it will seamlessly complement your kitchen decor while becoming a functional centerpiece. And each spice jars holds half a cup of spices which is the same as your standard spice bottle size.
In addition, experience the ease of organizing your spice collection with Evermill's self-aligning wells that ensure labels stay perfectly centered, simplifying spice identification. No more searching for the right spice; each jar is easily identifiable, streamlining your cooking activities. The wide-brimmed jars also accommodate the varying sizes of measuring spoons effortlessly, making every recipe a breeze.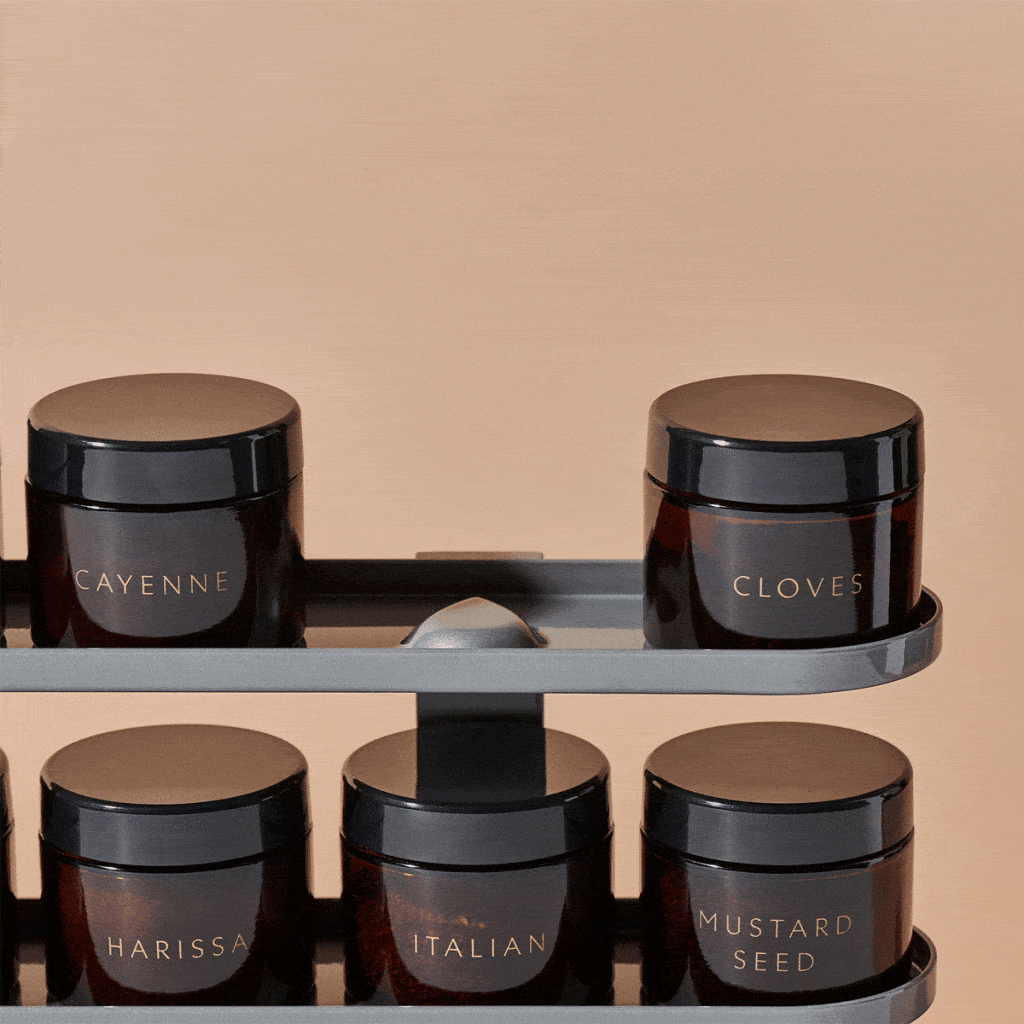 3. Easy Installation
With clear instructions and all necessary mounting hardware included, installing your Evermill Spice Rack is a breeze. Within minutes, you'll have a beautifully organized spice collection that sparks joy every time you cook.
4. Aesthetic Appeal
Let's admit it; aesthetics matter! The Evermill Spice Rack's sleek and stylish design complements any kitchen decor, adding a touch of elegance and sophistication to your culinary space.
4. Impact
If you need another reason to love Evermill, Evermill is dedicated to advocating for those in need and making a positive impact. Through an ongoing partnership with the United Farm Workers Foundation, they pledge 1% of their yearly net profits to empower communities and help break the cycle of poverty.
Exquisite Spices: A Symphony of Flavor and Quality
No culinary adventure is complete without the perfect blend of aromatic spices, and Evermill delivers just that. Evermill.com offers an exquisite range of organic spices that will elevate your cooking to new heights. Each spice is meticulously sourced from the finest producers around the world, ensuring exceptional quality and unparalleled freshness.
In addition, each well is filled to the prim, so rest assured that Evermill does not skimp on the product. Whether you're a seasoned chef or an aspiring home cook, Evermill's spices will undoubtedly inspire your kitchen creations.
Organic and Premium Quality
Evermill takes pride in providing only the highest quality spices to its customers. The spices are carefully cultivated without the use of harmful pesticides or chemicals, ensuring they are 100% organic. This commitment to sustainability not only benefits your health but also supports ethical farming practices.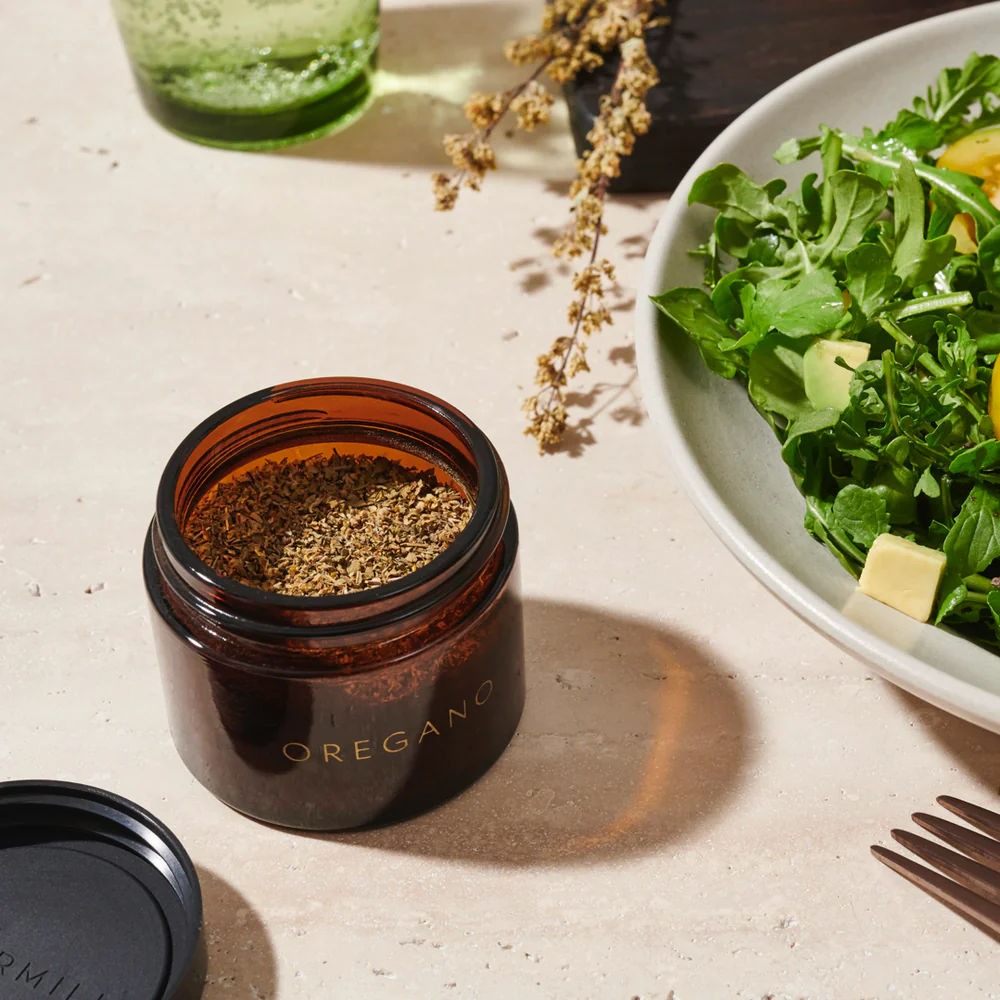 A Treasure Trove of Flavors
From the warm and comforting notes of ground cinnamon to the exotic allure of sumac, Evermill's spice collection is a treasure trove of flavors waiting to be discovered. Each spice is packed with intense aroma and rich taste, making every dish a culinary masterpiece. Elevate your favorite recipes with the premium spices from Evermill, and embark on a delightful journey through the world of gastronomy.
Convenient Ordering and Delivery
Ordering more of your favorite Evermill spices is super easy. Simply visit Evermill.com and its spice refills section to explore the full range of flavors. With just a few clicks, you can add the spices of your choice to your cart and proceed to checkout. Evermill ensures timely and secure delivery, so you never have to worry about running out of your beloved spices. Keep your pantry stocked with your favorite seasonings, and your kitchen will be ready to impress at a moment's notice.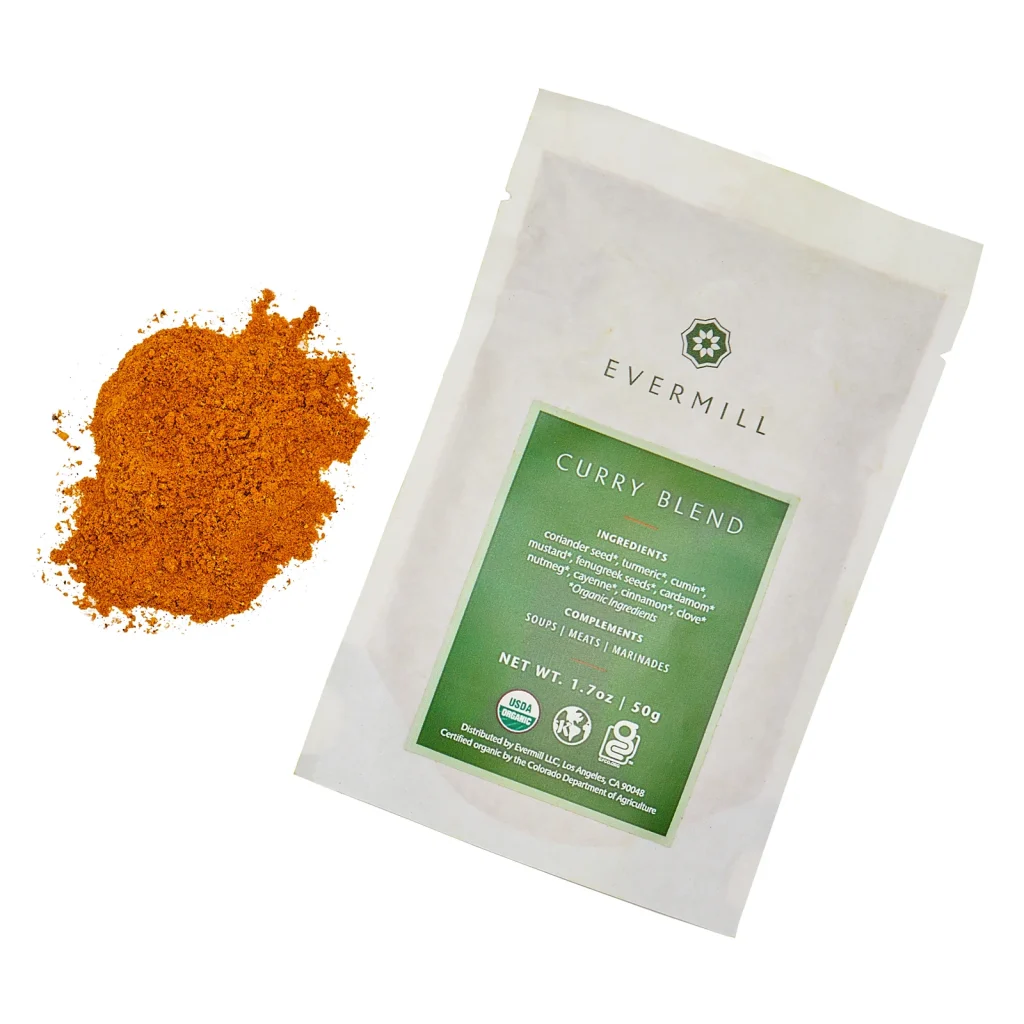 Discover Evermill's organic spices and unlock the full potential of your cooking. From the moment you savor the first aroma to the exquisite flavors that are on your plate, Evermill spices will leave a mark on your kitchen creations. Elevate your dishes with the symphony of flavors that Evermill offers, and let your culinary journey be a delightful masterpiece of taste and quality.
Elevate Your Culinary Journey
Imagine effortlessly locating your favorite spices while preparing meals. No more frantic searches, no more chaos—just an enchanting experience as you glide through your spice collection with the Evermill Spice Rack.
The journey to cooking paradise starts with one simple step: investing in a spice rack that understands your needs and elevates your kitchen's functionality. So, whether you opt for the countertop or in-drawer spice rack, Evermill has curated the perfect solution to enhance your culinary journey.
A Cooking Lover's Haven
Spice racks are more than just storage pieces; they are the gatekeepers of your flavor kingdom. Having an organized spice collection not only saves time but also enhances your cooking prowess. The Evermill's product is the epitome of a spice lover's haven, where every jar holds the promise of a delightful culinary adventure.
It also makes the perfect gift for any cooking enthusiast or food lover. Surprise your friends or family with a gift that adds charm and organization to their kitchen while elevating their culinary experience. You can even opt for Evermill's curated spice sets for a thoughtful and delightful present.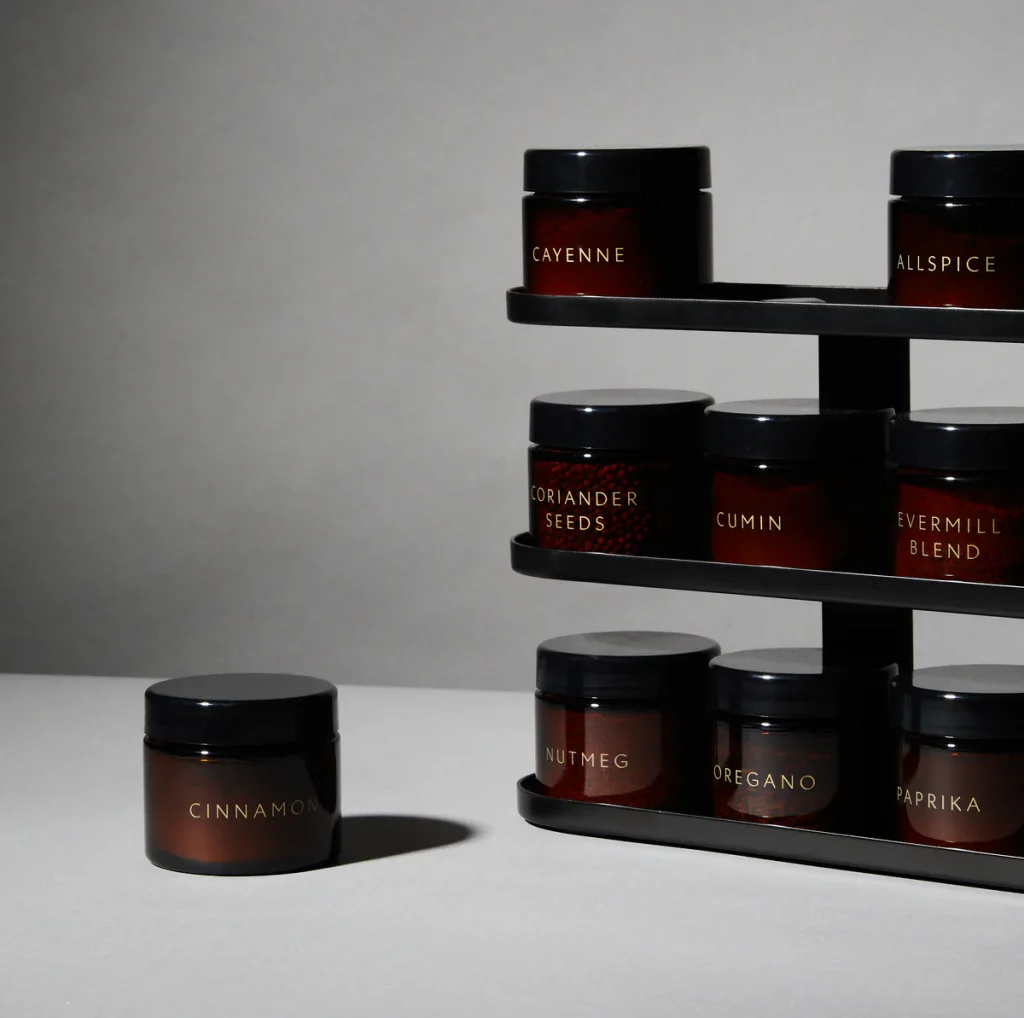 Embrace the Evermill Spice Rack
Embrace the organization, convenience, and elegance that Evermill offers. Elevate your cooking experience, and let this spice organizer be a testament to your culinary passion.
The time has come to bid farewell to cluttered drawers and scattered spice jars as your quest for the perfect spice rack ends with Evermill.. Welcome the Evermill Spice Rack into your kitchen, and witness the transformation of chaos into harmony. Discover the joy of effortlessly finding the right spice and adding a dash of magic to your every dish, where organization meets elegance, and flavor comes alive.
From the convenience of reusable spice jars and refills, Evermill ensures every aspect of your spice journey is filled with delight and satisfaction. Enhance your culinary prowess with Evermill's premium organic spices and indulge in the culinary magic that awaits in your kitchen.
So, what are you waiting for? Let the Evermill weave its charm into your kitchen, and take your culinary journey to new heights. Your kitchen deserves the best, and with Evermill, you'll have the spice rack you didn't know you needed—a true culinary companion that promises to delight, organize, and inspire.
Remember, a well-organized kitchen is the foundation of culinary creativity. Elevate your cooking experience to new heights.
FAQ's
Is the Evermill Spice Rack suitable for small kitchens?
Absolutely! It comes in various sizes, including a compact countertop option and a space-saving in-drawer organizer. Whether you have a small kitchen or limited counter space, the Evermill Spice Rack is designed to fit seamlessly into any kitchen setup, adding both style and convenience to your cooking space.
Can I use the Evermill Spice Rack for other storage purposes?
While the piece is specifically designed to hold spice jars, its versatility allows you to get creative with its use. You can use the spice jars to store and organize other small items like craft supplies, vitamins, tea bags, or even beauty products. Keep in mind though that the spice names will be displayed in the front, but you could stick on your own label to make it ideal for various storage needs.
How do I install the wall-mounted Evermill Spice Rack securely?
Installing it on the wall is a straightforward process. The package includes all the necessary mounting hardware and clear instructions to guide you through the installation. Ensure you mount it on a sturdy and level surface, such as a kitchen wall or the inside of a cabinet, using appropriate screws and anchors.
Can I mount the Evermill Spice Rack without drilling holes?
Yes, you can! Evermill understands that some homeowners prefer not to drill holes in their kitchen walls or cabinets. To cater to this preference, the wall-mounted Evermill Spice Rack comes with an alternative mounting option using strong adhesive strips. These adhesive strips provide a secure hold while being easy to remove without leaving any residue.
Does the Evermill Spice Rack come pre-assembled?
Evermill designed its products for easy assembly and convenience. While it does not come fully pre-assembled, rest assured that the package includes all the components and a step-by-step guide for quick and hassle-free assembly. Within no time, you'll have your piece ready to adorn your kitchen with elegance and functionality.
How many spice jars can the Evermill Spice Rack hold?
The Evermill Spice Rack is designed to accommodate a generous number of spice jars, providing ample storage space for your favorite spices. The exact capacity depends on the specific model you choose, but most can hold anywhere from 12 to 24 standard-sized spice jars comfortably.
However, for any custom In-Drawer requests, you can simply email Evermill for assistance.
Are the shelves of the Evermill Spice Rack removable for easy cleaning?
Absolutely! The Evermill Spice Rack is designed with practicality in mind. Its shelves are removable, allowing you to clean them separately without any hassle. This convenient feature ensures that your spice rack stays clean, organized, and ready for your culinary adventures.
Are Evermill spice jars reusable and eco-friendly?
Absolutely! Evermill believes in sustainability and offers reusable spice jars that are not only environmentally friendly but also beautifully designed. Once you finish a spice, simply refill the jar with a new spice of your choice or use it for storing other kitchen essentials. Reduce waste and contribute to a greener planet with Evermill's eco-conscious spice jars.
Does Evermill offer international shipping for its spice racks and spices?
Yes, Evermill proudly ships its spice racks and spices to various international destinations. Whether you're located in North America, Europe, Asia, or beyond, you can enjoy the convenience and elegance of an Evermill Spice Rack in your kitchen, along with the delightful range of premium organic spices.
Spice FAQ's
Are Evermill's spices ethically sourced?
Absolutely! Evermill takes great care in sourcing its spices from reputable suppliers who adhere to ethical and sustainable farming practices. With a strong commitment to quality and integrity, Evermill ensures that every spice in their collection is not only delicious but also responsibly sourced.
Are Evermill spices suitable for various cuisines?
Indeed! Evermill's diverse spice collection caters to a wide array of culinary styles. From traditional dishes to international delicacies, these premium spices will enhance the flavors of any cuisine. Whether you're cooking up a comforting stew or exploring the intricacies of Indian curries, Evermill has the perfect spice to complement your creations.
Can I purchase Evermill spices separately or as part of a curated set?
You have the option to purchase individual spice jars or indulge in curated sets that highlight specific flavor profiles. Whether you prefer to mix and match your spices or try out themed sets, Evermill offers the flexibility to suit your taste preferences and culinary ventures.
Skipped all the way to the bottom? Get the Evermill Spice Rack here.
Explore more home aesthetic recommendations here.
Subscribe to the newsletter to receive updates on new products posts.