Mexican Chicken Soup: Delicious and Ridiculously Easy to Make
This post may contain affiliate links, meaning I may earn a commission from qualifying purchases from Amazon or other websites. These sales help run this blog without any additional cost to you. I really appreciate it. Disclosure..
If you are missing your mother's, grandmother's, or whoever's Mexican chicken soup, look no further. This delicious and easy recipe will take you back and get your belly feeling nice and full.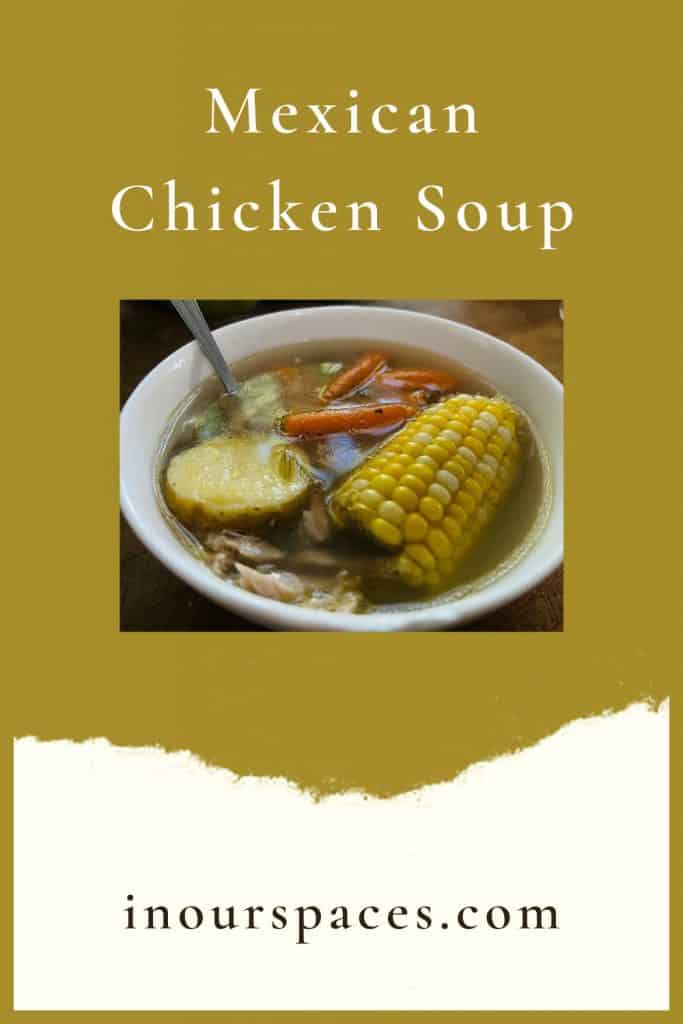 So you're sitting there thinking, "Man, I sure do miss my (insert name's) caldo de pollo recipe." Let me tell you that I know the feeling. Flash forward, I finally was able to take action and started learning some of these family recipes that I know I want to keep and make for as long as possible.
And quite honestly, it wasn't that hard to learn!
So today, I'm sharing a super easy Mexican chicken soup recipe that is delicious and so filling. Okay, maybe I'm bragging but every time I make it, my family always ends up getting seconds.
It does take quite some time to make as everything needs to slowly cook in the pot. So set aside about 1 1/2 to 2 hours from start to finish.
The reason you need this much time is that you DO NOT toss everything at once into the pot. Instead, you add the ingredients to the post at different intervals.
So set aside some time, that way your Mexican soup is ready by meal time. But it's also one of those meals that taste delicious reheated the next day as well.
Ingredients
These portions are what I used for a family of 4. Depending on the size of your family or pot, increase or reduce the number of ingredients.
You honestly cannot go wrong with the amounts. It's one of those recipes where you kind of just eyeball the amounts used according to your preference and the soup still comes out tasting good.
For example, if you like a ton of carrots in your soup, add more than what the recipe calls for. However, I went ahead and included measurements and quantities for anyone who prefers to have that.
Your choice of chicken parts – here I used 2 chicken breasts and 6 chicken drumsticks.
1 stick of cinnamon
1 onion
1 tsp salt + more for later
1 tsp pepper
1/2 tbsp oregano
1 tsp dried or fresh thyme
4 corn on the cobs
1 bunch of cilantro
10 small golden potatoes
5 whole carrots
2 zucchinis
lemons or limes – your preference
steamed white rice – optional
Instructions
Choppity-chop
Take the corn on the cobs and remove the husks and as much of the silks as possible. The silks are those stringy bits that the corn has. After that, using your muscles, bend and break each corn in half.
Grab your bunch of cilantro and cut off the stems. Basically just leaving the part where most of the leaves are. Roughly chop the leaves.
Cut the onion in half and remove the outer skin.
Cut your potatoes in half.
Slice your carrots and zucchini into circles.
Soup
Add the chicken, onion, and corn into your pot.
Then add in the cinnamon stick.
Add in the salt, pepper, oregano, thyme/parsley, and cilantro.
Next, fill up the pot will water until there is enough to cover the chicken and the corn. Set the heat to medium / medium-high, cover, and simmer for about 30-40 minutes or until the chicken is fully cooked.
You are now halfway done making this Mexican soup.
Veggies
Once the chicken is fully cooked, take out your chicken breasts, shred them, and then put them back in.
Add in the carrots and potatoes.
Cook until the carrots and potatoes and somewhat soft and then add in the zucchini. You want to cook the zucchini at the end so it doesn't turn into mush.
Once the zucchini is soft, you're done!
In a bowl add some rice at the bottom, then add in the soup.
Queeze some lemon juice, add salt to taste, and enjoy your caldo de pollo.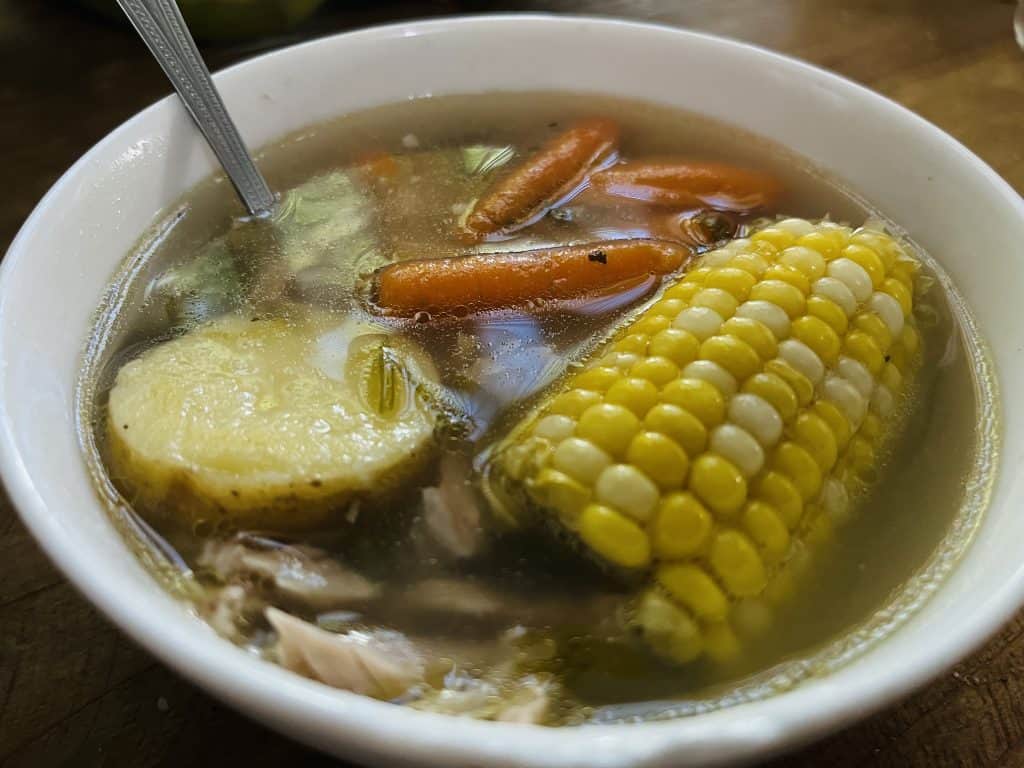 Hopefully, this Mexican soup recipe was easy for you to follow and understand. This is my version of it but there are different things you can make as well. I've included some ideas down below if you'd like to check them out.
Mexican Chicken Soup Recipe Recommendations
Instead of, or in addition to thyme, you can also use parsley. I personally like to add both into the pot whenever I have them on hand. I feel like the extra herbs give it more flavor and aroma.
More vegetables? You can also add chayote to your pot when adding the carrots and potatoes. Chayote is know as mirliton or choko. For this particular vegetable, you take off the skin and then dice it.
You could also add uncooked green beans into the pot and cook them in there as well.
When adding the steamed white rice to your bowl, you can simply use leftover cold rice straight up. The coolness of the rice will help cool down your soup so you can eat it sooner.
Instead of steamed white rice, you could also use Mexican rice. The one that is orange in color.
To add more character to your soup, add in some sliced avocado.
In Mexican culture, it is more of a tradition to eat Mexican chicken soup with corn tortillas. You warm them up on the stove, roll them up, and then take a bite out before getting a spoonful of soup. So, so good.
Pin this Mexican Chicken Soup Recipe for Later
Not making this today but maybe later? Pin this Mexican soup with chicken recipe to your Pinterest board so you can easily find it whenever you need the recipe. Or share the recipe if you know anyone that would be interested in this recipe.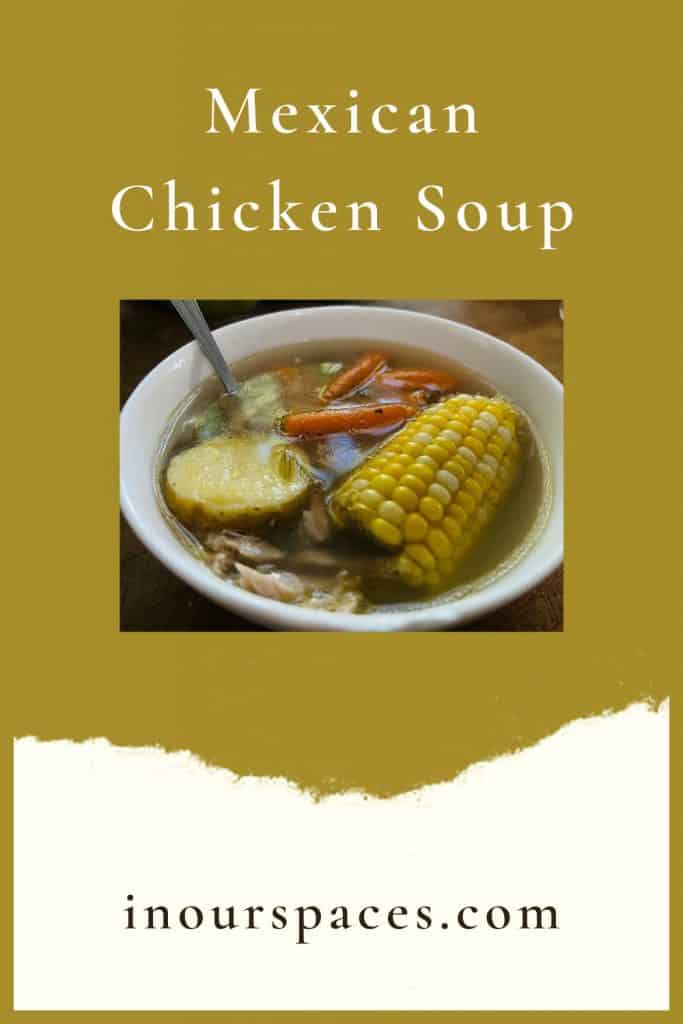 Looking for more easy to follow recipes?
If you enjoyed this Mexican chicken soup recipe, check out my other recipes in the food category of the blog. I try to share recipes that are easy to follow. They are great for anyone who doesn't feel confident in the kitchen but wants to learn how to cook.
Follow me on YouTube channel where I hope to share all things wellness and recipes via video in the future. I would mean a lot and help support my blog. Thank you.