LOMI Composter Review: The New Food Composter on the Block
This post may contain affiliate links, meaning I make a commission if you purchase through my links, at no extra cost to you. I really appreciate your support. I do not post affiliates links to things I wouldn't recommend or use myself. Disclosure..
Disclosure: Pela, the manufacturer of Lomi, gifted me this Lomi composter unit to review. All opinions are my own.
Waste
Food waste. One of the ever-so things a number of us dread because it sure as heck stinks up our trash bins. Like many, you leave your home for a few hours only to come back and be greeted by the smell of your trash bin. I'm sure many of us have been in a similar situation.
That smelly and leaky scent hits you the second you step through the door. So what do you do? You end up throwing out a half-full trash bag before you can even fill it up.
As a family of four, we do a lot of cooking at home. From making breakfast, packing lunches, and preparing dinner. Heck, I'll even at times prepare our snacks. This in turn means a lot of food waste. Like, a lot a lot. Ranging from food scraps, leftovers the kids just couldn't finish, or you accidentally left something sitting for too long in the fridge.
So what exactly can be done about all this food waste? Particularly, if (1) you have limited space, (2) don't have the ideal outside environment for an outdoor compost,(3) don't have the time to go drop off your scraps at your local food waste program or one doesn't even exist where you live, (4) composting is mandatory where you live, or (5) like me, you have no clue where to start.
For those of us who are intimidated by the process of setting up some sort of composting system at home – what are our options?
Let me introduce you to Lomi.
What is LOMI?
Lomi is an indoor countertop composter designed by the company Pela. The company's goal is to solve the problem of food waste by helping to remove 1 billion pounds of plastic by 2028.
Pela was kind enough to send me the Lomi composter to try out. Keep reading for my review and about my experience with the unit.
Lomi Composter Review
First Impressions
While your Lomi is en route to you, you'll receive an email with a video series on how to set up, run, and maintain your Lomi. This is a great way if you're more of a visual learner.
Thanks to the video series, I also learned all the packing used is LOMI Approved. Meaning, it can be placed into LOMI to compost. How cool is that?! So convenient.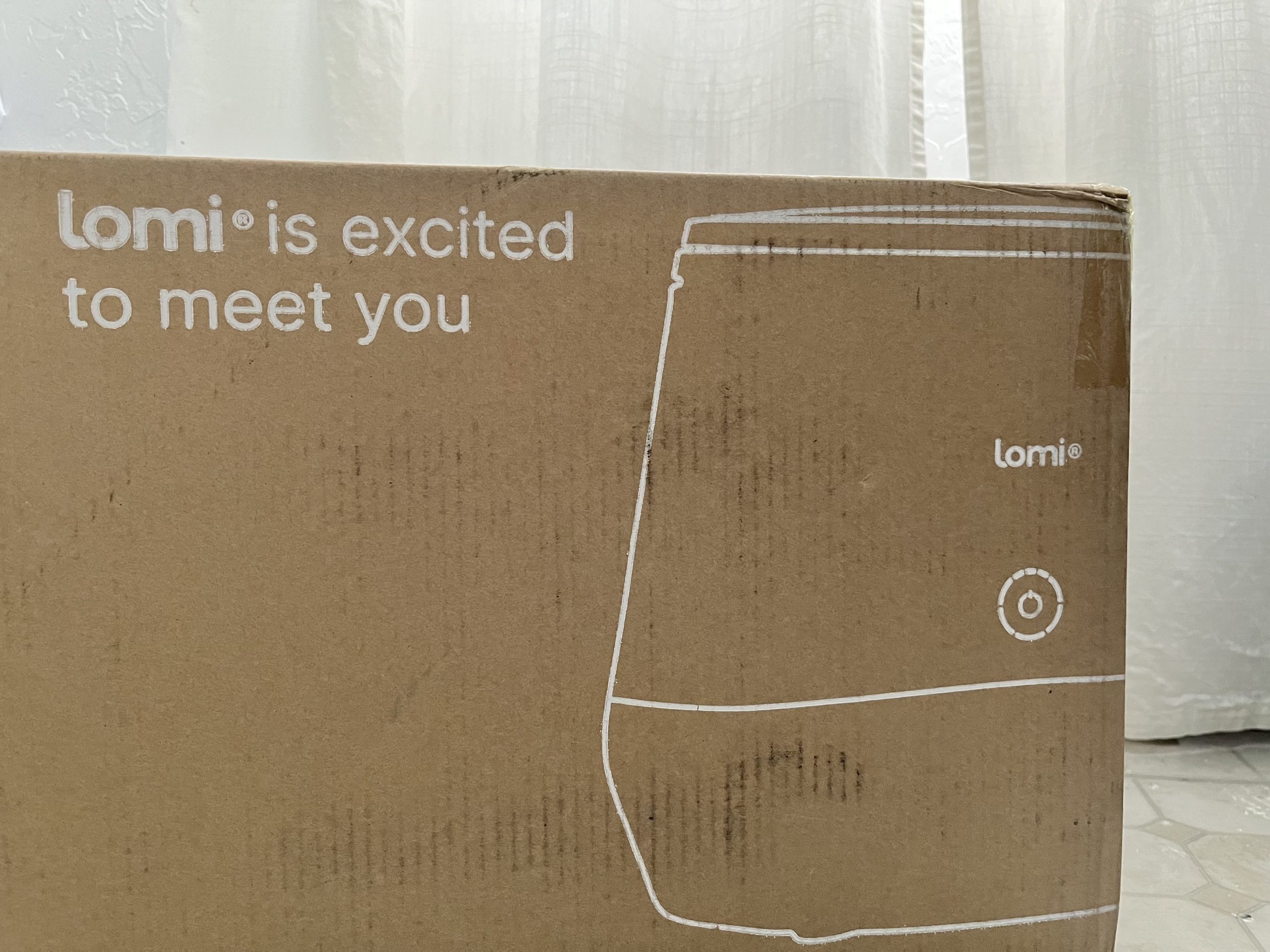 Aside from the actual unit and power cord, the package also came with an instruction manual, a quick guide to the different modes, charcoal refills, and Lomi Pods.
Once I received and opened the package, I took everything out and set up the unit. Piece of cake and super straightforward.
Since we are currently in a small home and practically have no countertop space, I set up Lomi on a stool.
Stats
If you like numbers, here's a couple stats for you:
The Lomi composter unit weighs a little over 20 pounds and measures approximately 16″ x 13″ x 12". Quite easy to pick up and move around whenever needed.
Modes
It has three different compost modes which are Grow, Eco Express, and Lomi Approved mode. What are the differences between the three?
Grow: In this mode, Lomi produces nutrient-rich soil that you can use for your garden and plants.
Eco Express: This is the fastest mode and can be used to quickly reduce your waste.
Lomi Approved: This mode breaks down Lomi Approved bioplastics.
At the end of the day with all our food scraps in Lomi, I select what mode I want to use, hit the button, and let it run its course. After some hours, our waste is significantly reduced in size. Check out the before and after:
Eco Express and Lomi Approved mode both create more dense and coarse dirt compared to Grow mode. The dirt produced in these two modes can be placed into your green bin outside.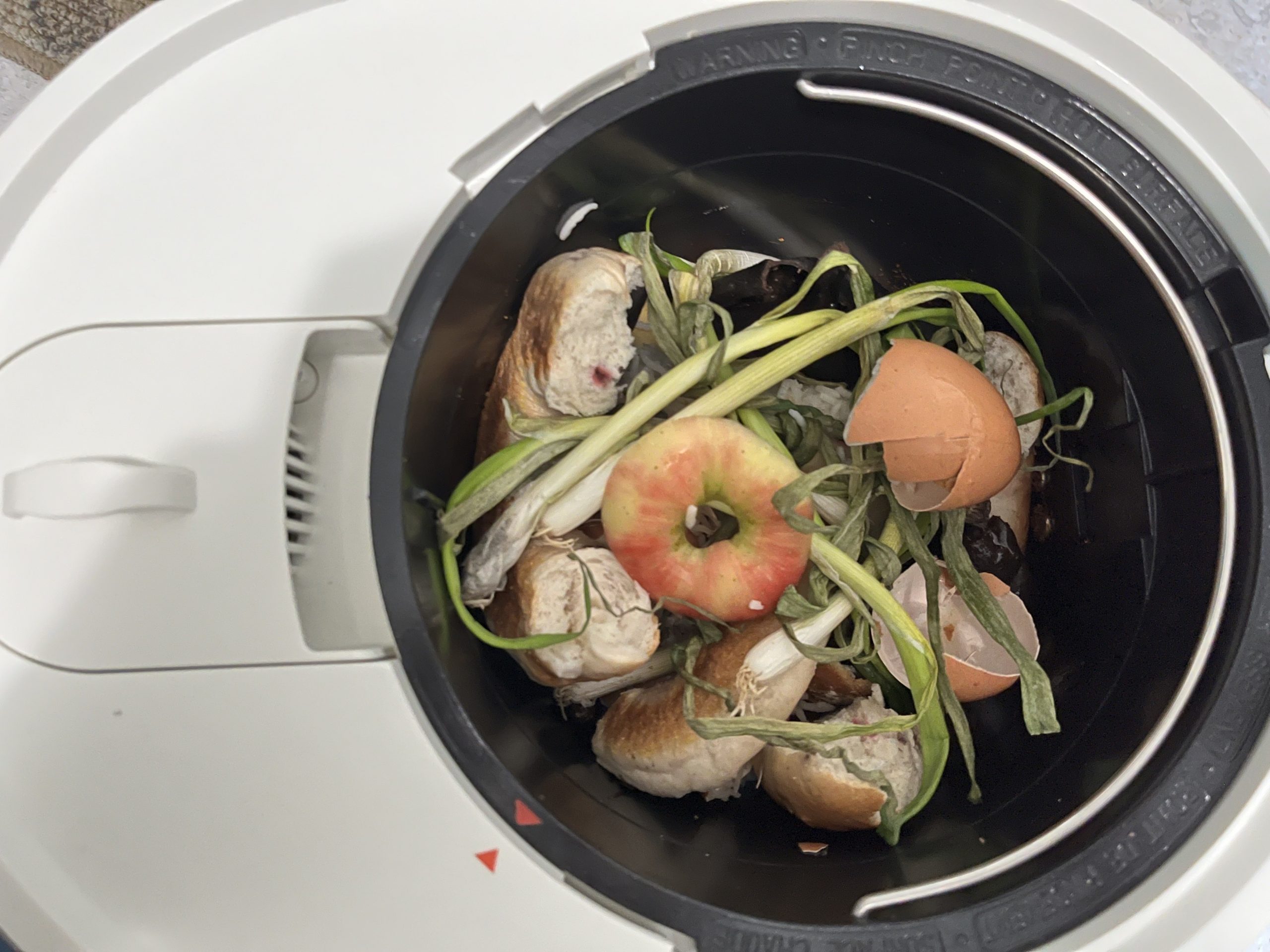 Cost and Where to Buy
Currently, Lomi retails for $499.
The downside to the Lomi composter is going to be the cost for some people. However, they now offer Affirm to split up the cost into easy monthly payments for anyone who would rather go this route.
Moreover, they have a subscription program where you save 10% if you subscribe to have your LomiPods and charcoal refills automatically mailed to you.
Final Thoughts on the Lomi Composter
To be completely honestly, the Lomi composter is not going to be for everyone. This is depending on different variables. Some rather do composting the old fashion way by using the sun, while others would rather try a different way. Whatever you choose, is what works best for you.
Our family recycles and tries to shop sustainably such as grabbing more natural foods, linens, products, etc. We do not focus on a 100% sustainable lifestyle, but we do make changes here and there.
I like how Lomi made the process of composting into such as easy process. On top of that, the different modes are great and allow you to pick and use one depending on your current lifestyle.
In our case, Eco Express and Lomi Approved mode makes more sense for our current living situation. However, once we set up our garden, hopefully in the near future, we could use Grow mode and use the soil produced for our plants.
This unit saves a lot of time and speeds up the composting process, no matter which mode you use. Simply put, the Lomi composter has made this process a whole lot easier than we anticipated.
Frequently asked questions
What are the benefits of composting?
Benefits of composting include:
Reduces your weekly trash
Don't have to take out your trash as often
Reduces your personal carbon footprint
Adds nutrients to the soil
How does Lomi composter work?
Lomi breaks food down by using heat, oxygen, and microorganisms. Similar to how food is broken down by micro-organisms and worms.
It breaks down a variety of things ranging from food scraps, meat, dairy, and even some approved bioplastics.
Does Lomi use a lot of electricity to run?
How much energy does Lomi use? Compared to other appliances such as a dishwasher or washing machine, Lomi uses significantly way, way less energy.
If you want to step it up a notch and if you have time-of-day electrical rates, you could run Lomi during hours when your electricity rate is cheaper.
For us, and as I mentioned before, it made more sense to run it at night. Since we are constantly cooking and snacking throughout the day, I simply wait until everyone goes to bed, then I put in the last bit of scraps in Lomi and let it run over the night.
What can I put into Lomi?
You can add fruit and veggie scraps like banana peels, egg shells, food that's been sitting too long in the fridge, and even cooked foods. Moreover, yard waste and Lomi approved products can also go into Lomi.
Check out the full list of what can and cannot go in a Lomi.
How long does Lomi take to compost?
It depends on which mode you use.
According to Pela:
Eco Express takes about 3-5 hours
Lomi Approved takes about 5-8 hours,
And Grow takes about 16-24 hours.
Does Lomi stink when running?
Lomi is practically stink-proof. Even when we added some pretty rancid foods in there, it did a really good job of keeping smells away. Such a huge relief, especially when you live in a small home.
Should you buy a Lomi composter?
Short answer: Yes.
If you are looking to live more sustainably and have been looking for a simple composting method, then yes, grab a Lomi.
Furthermore, for a unit that one will be using for a long, long time. I think the price is worth every penny. It's extremely beneficial if you are living in an apartment, small home, or heck, even if you are doing the whole RV living thing.
If you have avoided composting because you don't have the time, the energy, or you simply don't have the outdoor space, give Lomi a try. Lomi is making composting super easy and convenient. And honestly, wish I would have tried it sooner.
Pin this page for later!
If this Lomi composter review was helpful in any way or you'd like to check out what other products I recommend you can find them via the link HERE.