The Best and Unique Sarah Sherman Samuel Designs
This post may contain affiliate links, meaning I make a commission if you purchase through my links, at no extra cost to you. I really appreciate your support. I do not post affiliates links to things I wouldn't recommend or use myself. Disclosure..
Sarah Sherman Samuel did it again! She is one of my favorite interior and product designers who has the remarkably ability to effortlessly combine different styles to achieve distinctive spaces that makes us swoon. Her highly anticipated collection is available online. Today, I am sharing some of the best and unique Sarah Sherman Samuel designs x Lulu and Georgia designs from this collaboration.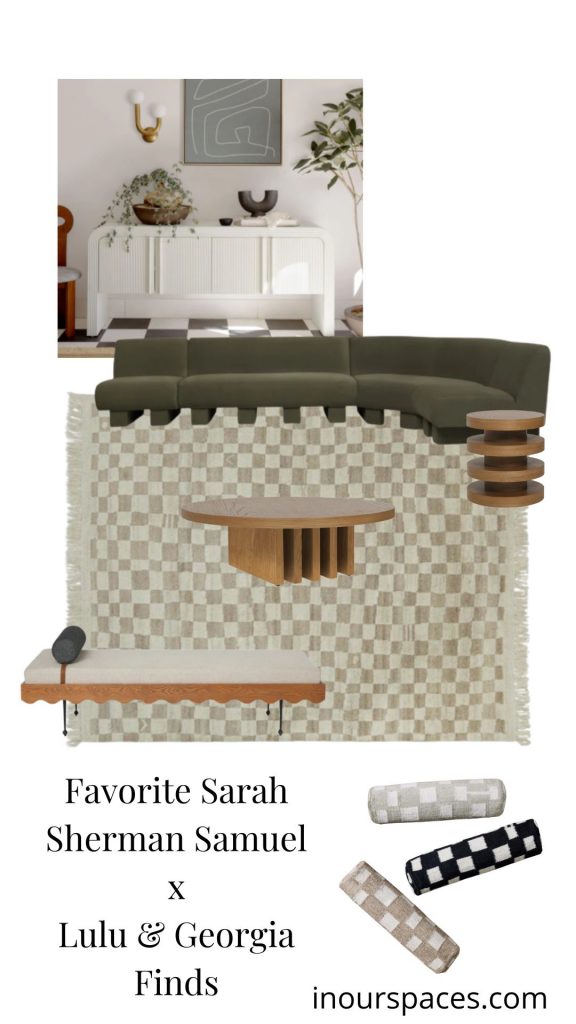 Like my pin? Save it for later!
Check out my favorites finds Sarah Sherman Samuel designs in this collaboration:
This sectional sofa with the curvy details brings style and comfort in your home. The first piece I personally like to begin with when decorating a living room is always the sofa.
Next up, a round coffee table is a great centerpiece with a unique twist.
Checkerboard, checkerboard, checkerboard. Need I say more? this rug will give your space an uplift.
This sideboard can go anywhere. The living room, entryway, kitchen, or even the hallway!
A daybed for a place to rest or as extra seating for guests.
A matching side table to go with the coffee table.
Just give me all the pillows.
Sarah Sherman Samuel's collection's are always spot on. All the pieces go so well together that you an can mix and match pieces from the collection flawlessly an effortlessly.
Check out my LTK it page HERE! LTK is a website and available via an app where you can save any of these unique Sarah Sherman Samuel x Lulu and Georgia designs on the app and shop later. I've added a few extras on my LTK page there that also caught my eye from the collection. Also, if you need some gift ideas, I curated a list for that special someone who may like useful and beautiful home items. Beauty and utility in one is something I try to look for when shopping for our home.
Thank you
As always, thank you to everyone that visits my website and purchases through my affiliate links. Meaning, I earn commission when your purchase through my links, at no cost to you. This helps support our little family and allows me to continue to provide content. Thank you so much.
Feel free to follow me on Instagram @inourspaces