24 Amazing Machine Washable Rugs
This post may contain affiliate links, meaning I make a commission if you purchase through my links, at no extra cost to you. I really appreciate your support. I do not post affiliates links to things I wouldn't recommend or use myself. Disclosure..
On the hunt for some machine washable rugs? Here are some that look good and will save your sanity when it's time to get them clean.
*This post is sponsored by Rugs USA. All opinions are my own. Thank you for supporting brands that help keep In Our Spaces running.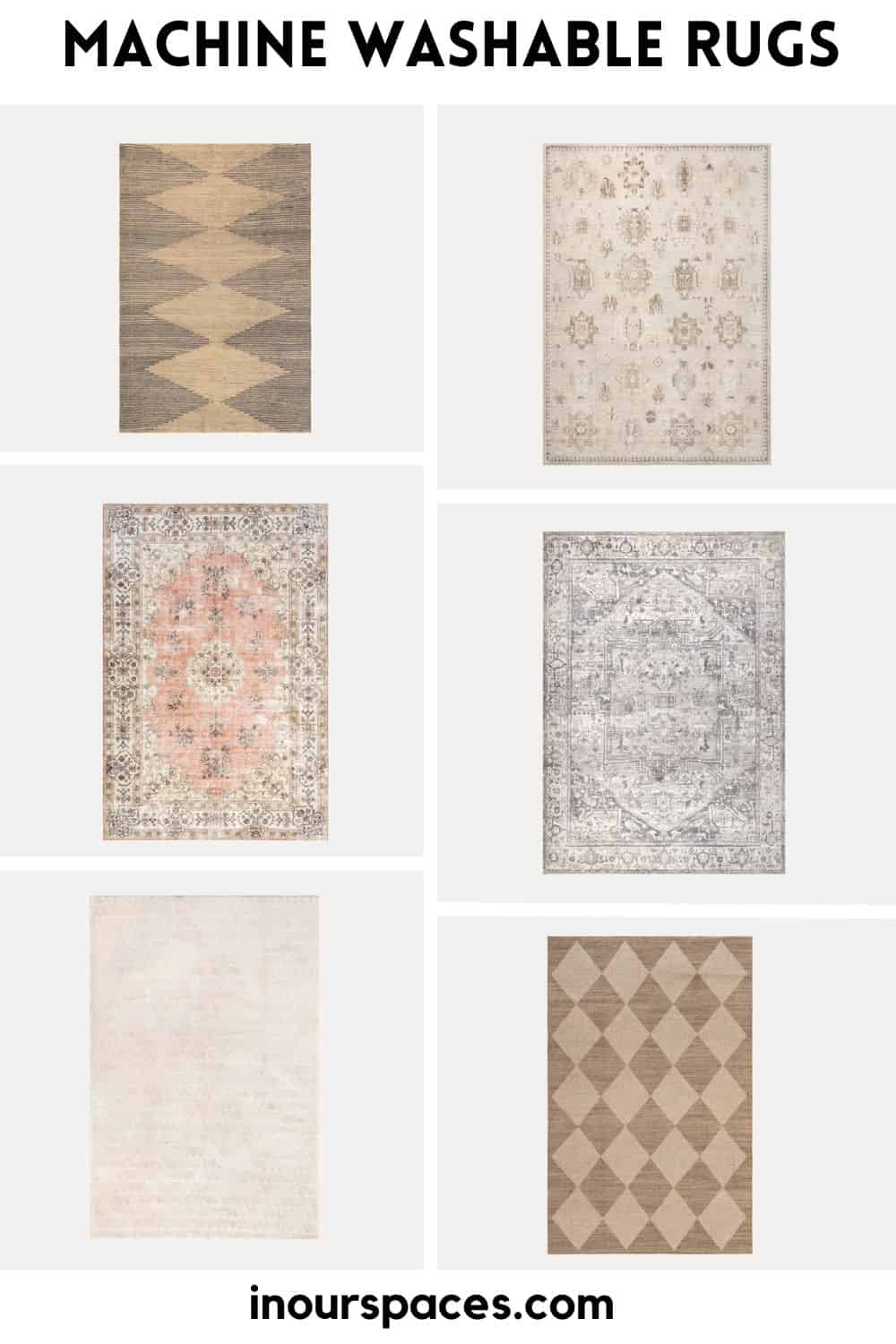 A rug can have a huge impact in a room even if you don't change anything in a room. A simple rug swap and bam, it completely changes the atmosphere. However, if you have a space with a lot of foot traffic or for whatever reason they get dirty rather quickly and you just dread having to clean it, let me make your life easier. All you need are machine washable rugs.
So head over to Rug USA to snag some great rugs!
If you think you know machine washable rugs, you haven't checked these out!
Recently a new type of washable rug was created. And you might be thinking, "So what's so great about these?"
Well they are:
Machine washable
Pet and kid friendly
Spill and stain resistant
And best of all? One-piece!
One piece. No separate pieces. No having to pull things apart and put back together. Just place the rug on the floor and then when you need to, pick up again and throw it in the wash. That's it. They are singe piece machine washable rugs.
So I've put together a list of my favorite Rugs USA machine washable rugs.
Click through to check them out.
If you want the look of jute without the fear of stains then this is the rug to get. It is durable and the geometric shape is beautiful.
This one is at the top of my favorites. Living room, bedroom, or in a nursery. The soft patterns and muted colors are so, so good. The neutral tones will work well in any spaces. Definitely have my eye on this one.
And an elegant touch to a room with this beauty. A natural rug but with a pop of color. I can see this one styled in a boho themed room.
Another rug that will go well in any room as it will bring in the greys and neutrals in a room.
A little hard to see with the above image, but this is simple rug with a visually interesting honeycomb pattern.
What a jaw-dropping jute looking rug. This particular one is very popular and all the interior stylists and decorators are snatching it up.
A bold pattern that will pit in a minimalist or maximalist home.
This beige beauty looks as soft as a minky blanket. Great pick to add texture to a space.
More Machine Washable Rugs


Add interest to a room with this muted vintage inspired rug.
Elegant, soft, and luxurious. It also comes in different colors.
A washable rug with some plush to it? Yes, please.
This peachy beauty would look stunning in a little girl's room.
If you're looking for a more elegant and timeless rug, this one is it. This one would go well with the grays and browns in a room.
A Morrocan inspired rug that is easy to care for.
Another beige-y beauty but with a diamond pattern. Gives off all the cozy and lux feels.
Ooh la la. This is one of those rugs that looks better in person. It has a pop of color but at the same it's subtle. Great pick for runner if you're in search of one.
Looking for a bit more color in your home? The pink and orange color combo on this is really cool and vibrant.
Check out this super cute alphabet rug. Perfect for taking photos of your little one as they grow.
Elevate your space with a cowhide rug that you can wash. The color and texture would have you convinced it's a real cowhide.
This earthy-toned rug reminds me of a bit of those super rare Tuareg rugs but at a very fraction of the cost.
Rusty red and geometric shape to really make an bold statement in a room.
A great option if you're really into tufted rugs but don't necessarily want to deal with the maintenance.
This gorgeous pattern rug would look great in a modern boho room.
I'm a sucker for striped rugs and this one is no exception.
Are machine washable rugs for you?
If you've always wanted a rug but have been afraid to take the plunge or just tired of constantly having to replace your rugs due to various reasons? These machine washable rugs are the sign you've been waiting for.
Are you currently in search of a rug? What rug do you like the most from this list?
P.S. Don't forget to check out the website for even more rugs.