The Simple Turkey Roasting Recipe
This post may contain affiliate links, meaning I may earn a commission from qualifying purchases from Amazon or other websites. These sales help run this blog without any additional cost to you. I really appreciate it. Disclosure..
Interesting in learning how to roast a turkey but feeling overwhelmed by the amount steps? Feel free to follow along using this simple recipe.
Going to save you the long story and get straight to the point. I'm not the best cook but I try. Tried my hand at roasting a turkey, and all in all after some trial and error this is the simplest and easiest way I got it down to save my sanity. So here I present to you the simple turkey roasting recipe.
Decided in the spurt of the moment to document it here on my blog for future reference just in case. So here it is. How to cook a turkey the simple way:
Table of Contents
What you'll need
Now, I'm assuming you have all the tools on hand. If not, I linked items similar to what I used. You can get it online or make a quick trip to your local store:
Roasting pan – would grab one in person to make sure your turkey fits properly in it.
Meat thermometer (I like this one because of the clear indicators)
Oven thermometer (if you think your oven's temp is off)
Also, our turkey took about 4 1/2 days to defrost. We got ours on Sunday, placed it in the fridge and it was ready to go on Thursday. So keep that in mind if you're getting a frozen one. For this recipes, our turkey was in the oven for about 2 1/2 hours.
What Ingredients do I need to roast a turkey?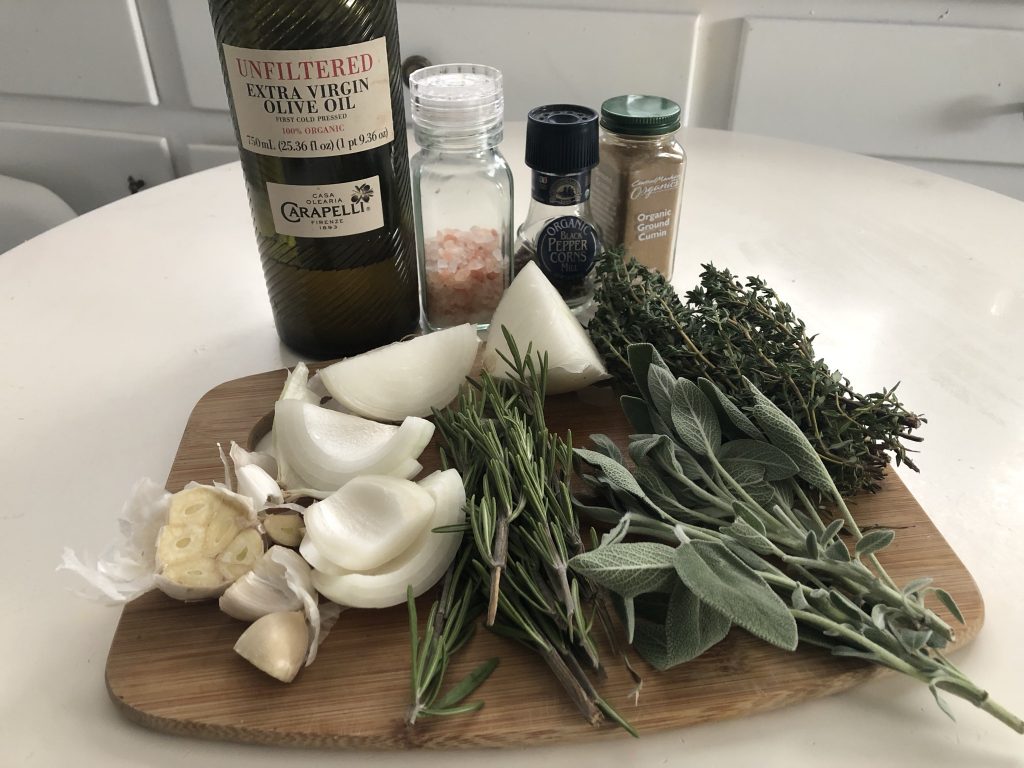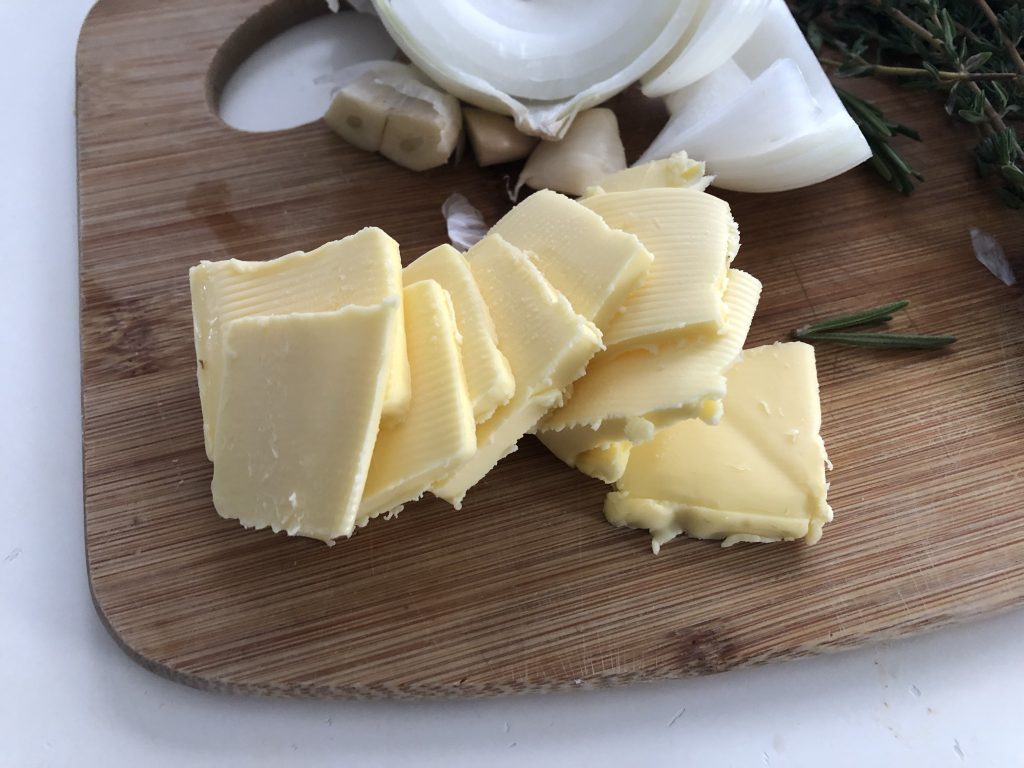 a turkey – ours was approximately 14lbs.
thyme
rosemary
sage
1 small onion cut into quarters
1 garlic head
olive oil

salt

pepper
ground cumin
1/2 stick of grass-fed butter cut in slices
The Simple Turkey Roasting Recipe
Take your turkey out of the fridge and let it stand at room temp for at least 30 minutes.
Remove anything plastic off the turkey. You don't need any of it.
Turn on your oven preheat to 400°F.
While that's heating up, mix equal parts of the salt, pepper, and ground cumin in a small bowl. I had about 2-3 teaspoons total.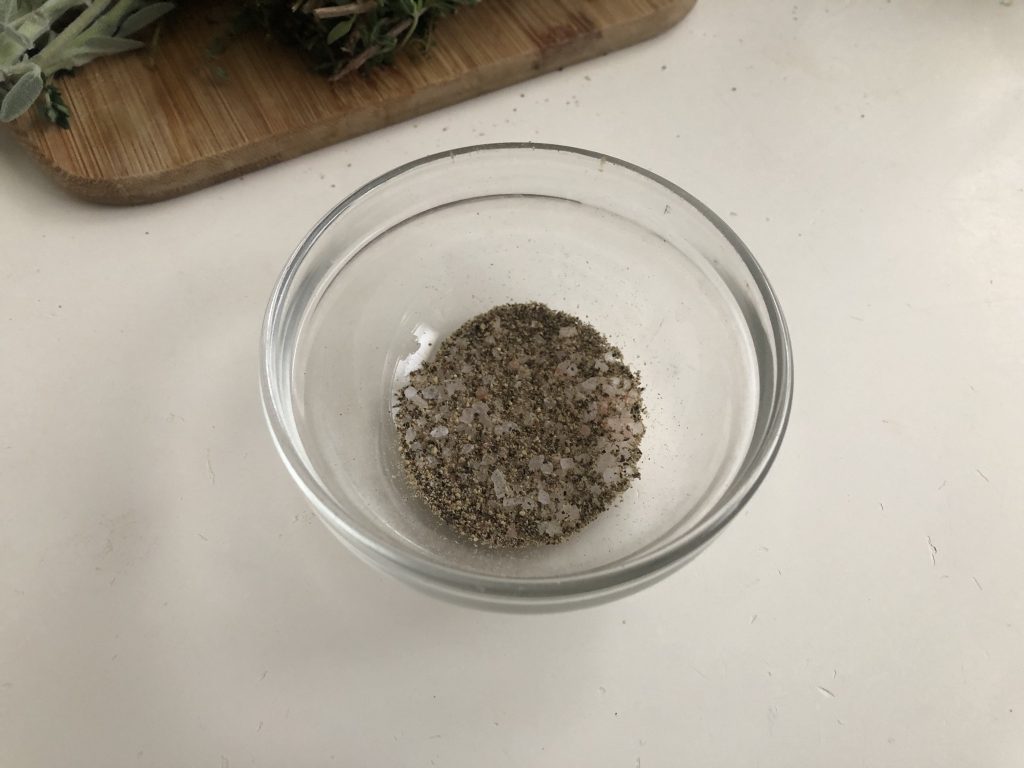 Remove whatever extras are inside the turkey cavity. It's usually the neck and heart.
Remove the giblet bag from the other end.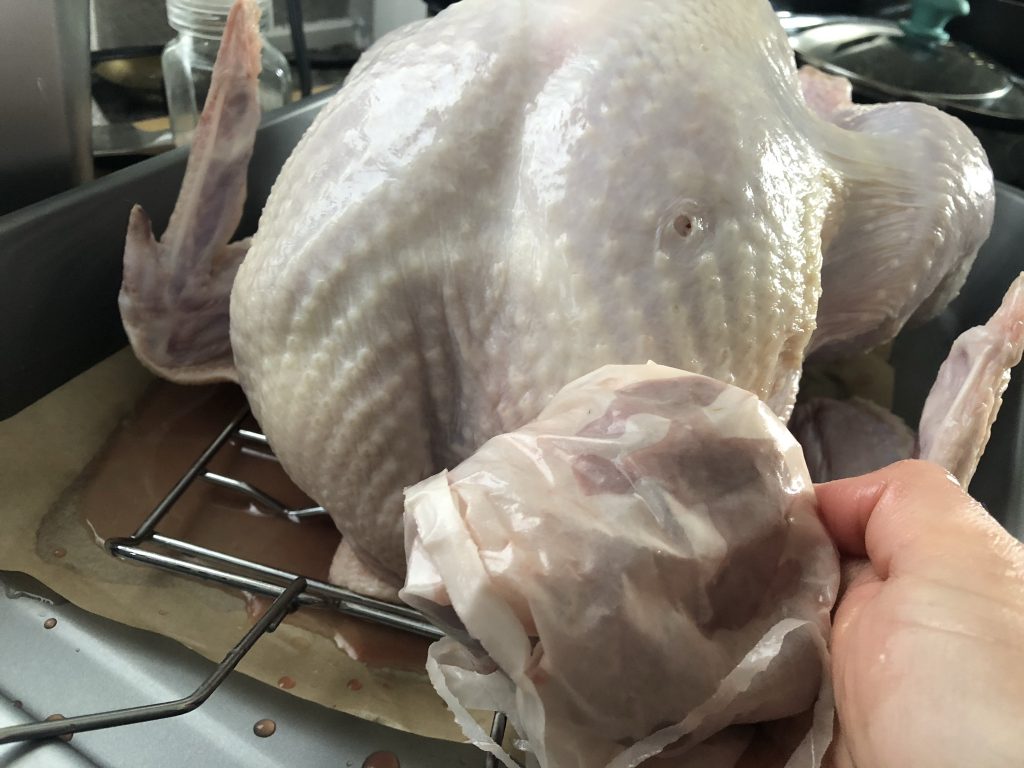 You can cook or toss everything you took out. Usually, I just cook them in a small pot of water and they're good to eat. Others, use it make other things. But back to the turkey.
Grab your salt, pepper, and cumin mix and rub it all over the inside and outer parts of the turkey with your hands. You can wait and do this at the end or get it over with now. I did it early because there were curious little hands nearby.
Next, grab two of the onion quarters and place them inside the turkey cavity. You can also place half a lemon inside if you'd like. But of course, I didn't have any on hand this day. Also, place another piece of onion where you removed the giblet bag from.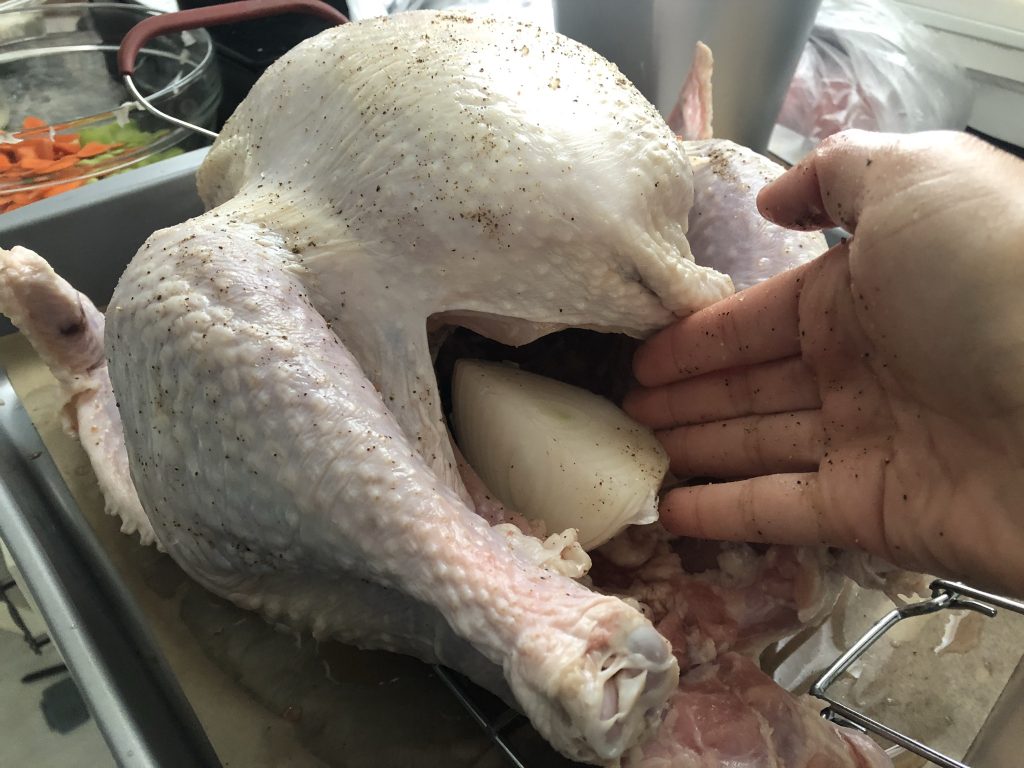 Then grab the thyme, rosemary, and sage and place whatever will fit inside the cavity as well.
Now grab the skin at the top of the turkey, where the breast is, and use your hands to carefully separate the skin from the meat. You may need to use a knife first to make an small opening to get your hand in there.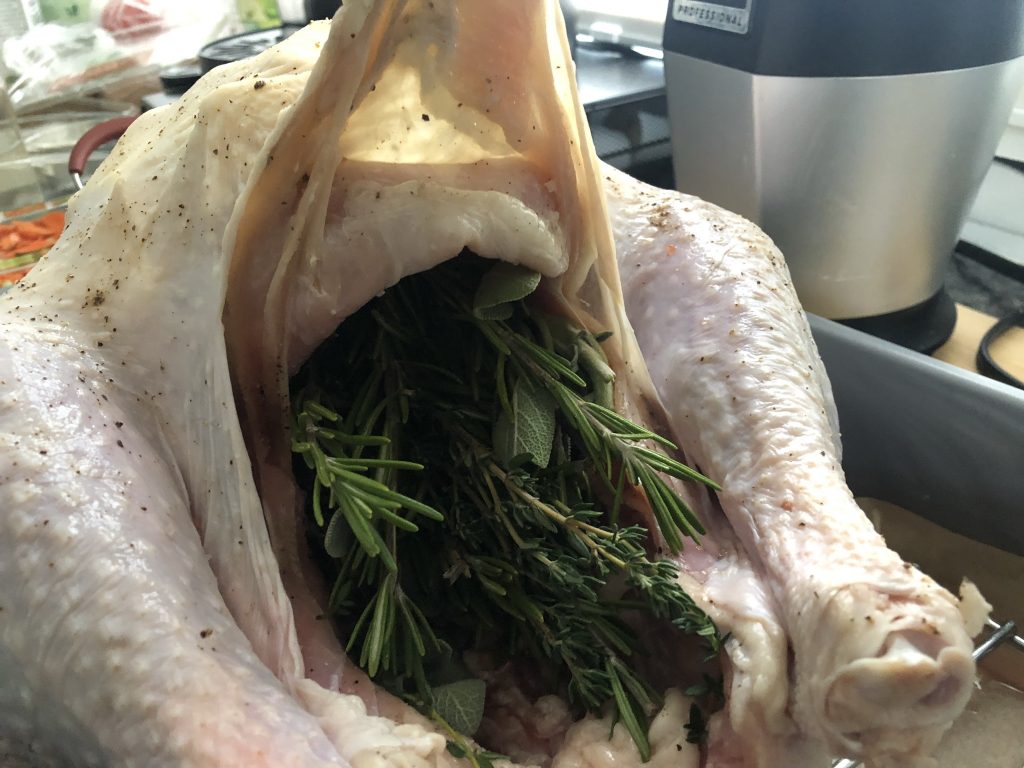 After that, add the butter slices under the skin you just separated.
Afterwards, drizzle some olive oil on top.
Feel free to add any extra salt/pepper/cumin mix you have left over on top. Here, we had some little helpers help with adding extra herbs on top.
Tuck the tail in and add the last piece of onion in the cavity.
Oven Time
By now the oven should be at 400°F.
Place the turkey inside the oven for about 45 minutes.
After 45 minutes, check to see if they skin has browned.
If so, grab your silicone oven mitts, remove from oven and lower the temperature to 350 °F . With your silicon oven mitts on, flip your turkey breast side down. This allows a good amount of the juices to run down so the breast part doesn't some out dry.
Place it back in the oven.
Cook for 1 hour and 30 minutes at the 350 °F temperature.
This is also a good time to start to use and prepare you other side dishes.
After the time is up, take the turkey out and flip it again. Grab your meat thermometer and make sure the internal temperature of the turkey has reached 165 °F . I personally insert the thermometer in the turkey as pictured, and then test a few extra spots just to be safe.
If it's 165 °F then you're good to go! If not, place it back in the oven and recheck every 15 minutes. I personally would flip it back before placing it back into the oven, but wouldn't bother doing so if the turkey is rather large and heavy.
Cooking times for roasting a turkey
For reference I add about 15 min extra cooking time for every pound.
12-14 lb turkey: cook at 400 °F for 45 min, then flip & cook at 350 °F for 1 hr 30 min.
15-17 lb turkey: cook at 400 °F for 60 min, then flip & cook at 350 °F for 1 hr 45 min
18-20 lb turkey: cook at 400 °F for 75 min, then flip & cook at 350 °F for 2 hours.
Cooking times do vary, so make sure you use that meat thermometer. Our 14lb turkey (3.95lbs to be exact) took 2 1/2 hours total to cook. This simple turkey roasting recipe is the best I could do to simplify the process.
Once the temperature is good, enjoy!