This post may contain affiliate links, meaning I make a commission if you purchase through my links, at no extra cost to you. I really appreciate your support. I do not post affiliates links to things I wouldn't recommend or use myself. Disclosure..
Need ideas on what to gift your friends or family? Check out Young Living's gift guide to use for the holidays, birthdays, or even just to say thank you to someone.
Young Living gift guide. If you're stuck on what to get someone then scroll down for some gift ideas! How about wellness products? This year we're gifting family and friends from one single shop to make things easier. Check the gift guide below for ideas. And as always, if you shop using my link you'll then receive a link from me to get access to our amazing online wellness group.
Gifts for the skincare lover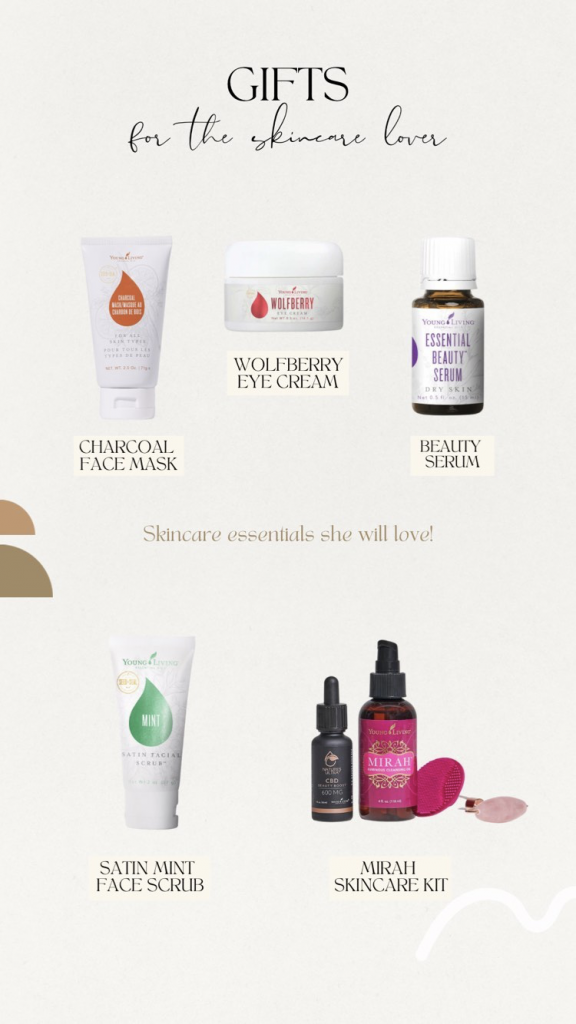 My favorite here the Satin Mint Face Scrub. Leaves my face feeling fresh and clean.
Gifts for the men in your life
Great gifts for the special man in your life.
Gifts for your gym buddy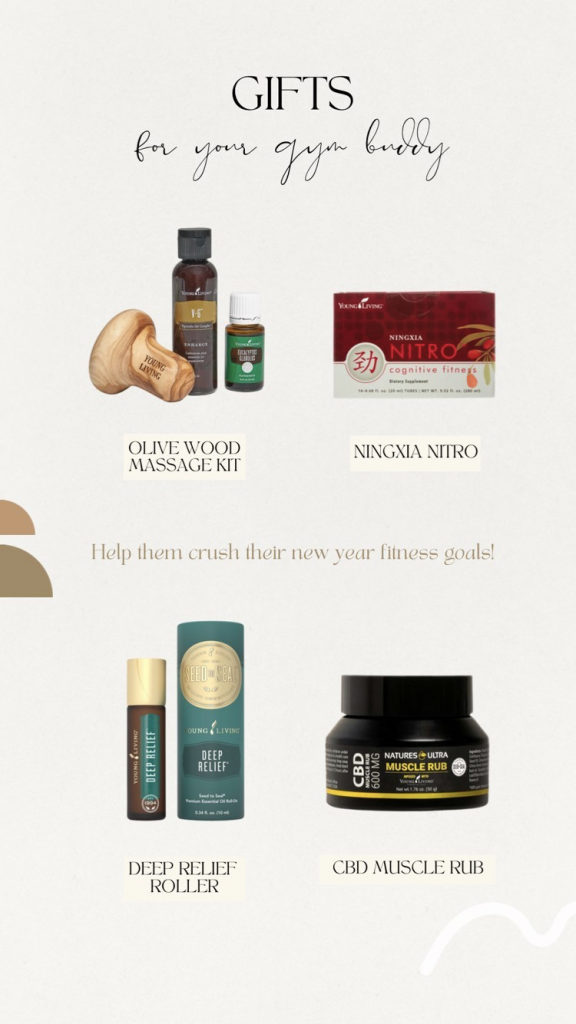 We personally have the Olive Wood Massage Kit and also the Deep Relief Roller. Both help relieve tired muscles. I also love using the roller for when I have headaches for the extra support. Young Living also carries protein powders. So yet another thing you can add to the list.
Gifts to inspire self-care
The Winter Night Hand Lotion (as well as the hand soap) smell so good. Great to put into a gift basket.
Gifts for a clean and cozy home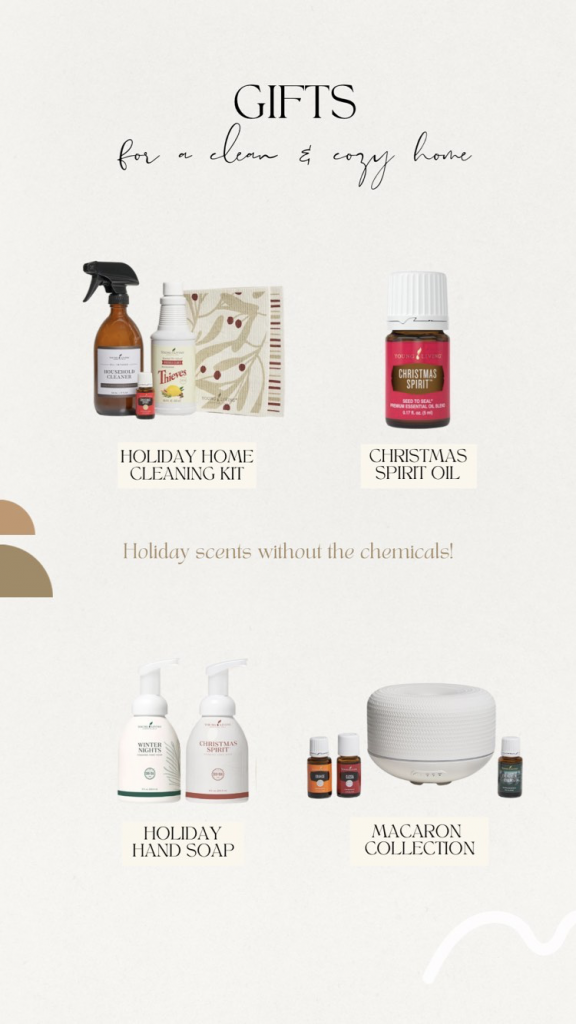 So all of these are great and I have lots to say. The cleaning kit is great to start your wellness journey. That Thieves Household Cleaner will last you months and will replace practically every cleaning product in your home. Add a few drops of the Christmas Spirit oil and it's oh so good!
Also, the reusable dish cloth will reduce the amount of napkins you use as it's washable. The Macaroon Collection and Holiday hand soap are only available for this holiday season, so grab them before they're gone! Great pieces to have out to fill the air with holiday cheer.
Gifts for the new mama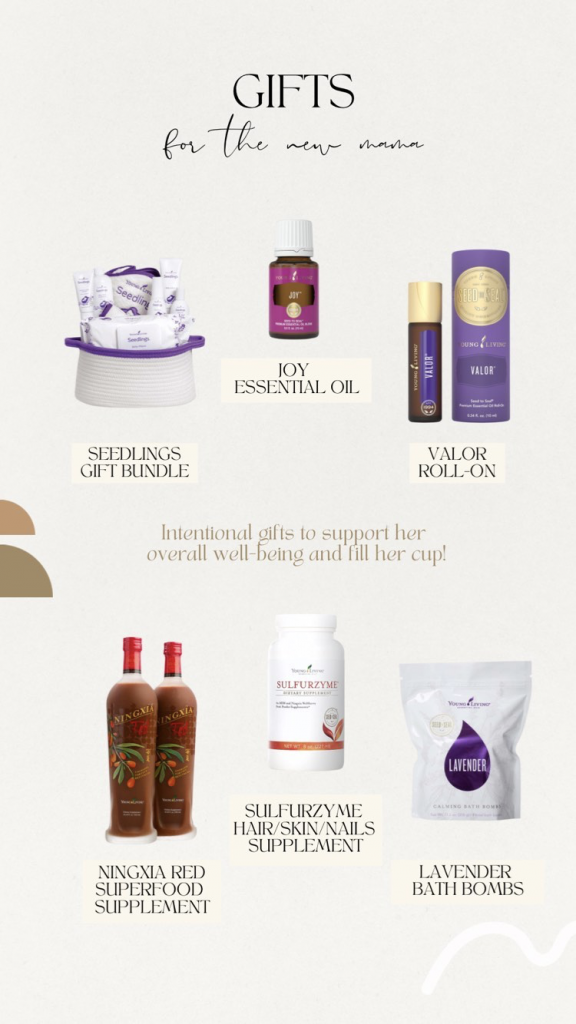 If I had to pick only one item from this lift a new mama or for anyone really, I would definitlely go for the Ningxia Red drink.
And quite honestly, if I had to pick one, just one gift from all of these that can be gifted to almost anyone – get Ningxia Red Drink. It is incredible delicious and has so many benefits. Once you get hooked, you and your whole family will be asking for a drink. From your elders to your littles.
Not a day goes by that I don't crave it. And it's something you'll want to have in stock ALL THE TIME. Also, it tastes best chilled.
I may have to do a post on it later. But not only that, it is a great drink if you need an extra boost for your hair and skin. But okay, enough about this unicorn drink, let's move on.
Gifts for the kiddos
For the kids. Love, love, love the Little Oilers Starter Bundle. We personally have two Owl diffusers in our home. It's a humidifier, aroma diffuser, night-light, white-noise machine in one!
Gifts for the beauty queen
Did you know Young Living also carries makeup?! I didn't know until recently. Their makeup is free from all that nasty stuff.
In addition, they also carry food items! Know someone in your life that loves to cook? Check out the'Food & Beverage section as well.
Got some ideas from this Young Living Gift Guide? Click my link below to make a free account to shop.